Amazon Halo and Fitbit are both fitness trackers that monitor your daily activity, sleep, and heart rate. However, there are some differences between the two.
In this Amazon Halo Vs Fitbit comparison, I'll focus on these cutting-edge fitness trackers, analyzing their features, performance, and unique offerings.
Whether you're a fitness enthusiast, a health-conscious individual, or someone seeking to adopt a more active lifestyle, this in-depth analysis will guide you in making an informed decision about which device is best suited to accompany you on your quest for a healthier, fitter you.
Join me as I break down the strengths and weaknesses of Amazon Halo and Fitbit, helping you discover which one aligns perfectly with your needs and goals.
Amazon has decided to discontinue its Halo line of consumer tech (Halo Band, Halo View, and the Halo Rise), effective July 31, 2023. The Amazon Halo app will no longer function after August 1, 2023. Customers who have paid the $4 per month subscription fee, or have recently purchased a Halo product, may be entitled to a refund, and Amazon is also providing a way to return and recycle Halo products.
Table of Contents
Related: Fitbits for Men 2023
Amazon Halo Vs Fitbit: In-Depth Comparison
Appearance, Design, and Comfort
The Amazon Halo and Fitbit are fitness trackers designed to help you achieve your health and fitness goals.
Although both are lightweight and comfortable, the Amazon Halo lacks a display which means that if you want to check the time or steps, you have to check your phone or strap something else to your wrist.
The Amazon Halo doesn't have standard options like GPS, Wi-Fi, or cellular radio, while the Fitbit comes with these features, making it a more versatile option when compared to Halo.
Activity and Workout Tracking
The Amazon Halo offers unique activity monitoring by capturing your activities automatically and categorizing them into intense, moderate, and light activities, along with the heart rate for the duration of your activity.
The Halo has different guided exercise programs that can be launched from the app. You can also take advantage of several workouts, including Yoga, Cardio, Barre, Pilates, and Strength to HIIT.
On the other hand, Fitbit devices can track the distance traveled, floors climbed, and Active Zone Minutes, and the metrics are displayed in more detailed graphs and weekly summaries.
Related: Fitbits for Women 2023
Wellness Monitoring
Fitbit devices are known for heart rate monitoring and improved accuracy, especially in blood oxygen level saturation monitoring. Some models also come with a stress management platform and can measure the screen temperature.
Conversely, the Amazon Halo offers 24-hour heart rate monitoring. However, the Halo doesn't show advanced heart rate metrics or heart rate variability. If you're looking for a device to give you details on blood oxygen level and ECG, you'll be disappointed with the Amazon Halo.
Calories Tracking
Fitbit devices show the number of calories you've burned while exercising or walking. This is a great feature for losing weight, but it depends on activity, distance, and several other factors. The Amazon halo also counts steps covered and calories burned, which can be quite handy in weight reduction.
Amazon Halo Vs Fitbit: Sleep Tracking
The Halo has a lot to offer when it comes to sleep tracking and is one of the most impressive features. The Halo gives you the overall sleep score and provides details concerning sleep stages and other crucial metrics. It also has Sleep Lab sessions that you can use to improve your sleep techniques, fall asleep faster, and optimize your sleep schedule.
Fitbit devices have effective sleep monitoring capabilities that help you to understand your sleep quality and patterns better. This feature turns on automatically and will show you the time you spent awake and asleep, together with your sleep stages (light, deep, and REM). Additionally, you'll get a Sleep Score based on how well you slept.
Heart Rate Monitoring
The Halo has an effective heart rate monitor that gives a good range of accuracy. It comes with a Live tab to help you view real-time HR and get insights on your resting heart rate. Conversely, all recent Fitbit gadgets track the heart rate using an optical heart rate sensor. They have 24/7 heart rate monitoring and also track the active heart rate when exercising.
Water-Resistance/Waterproof
The Amazon Halo and Fitbit devices have similar water-resistance capabilities. Both devices are waterproof up to 50 meters.
Fitbit vs Halo: Compatibility 
Both Amazon Halo and Fitbit are compatible with Android and iOS gadgets with Bluetooth connectivity. The Fitbit also connects with other Windows devices.
Amazon Halo Vs Fitbit: Battery
The Amazon Halo comes with a battery life of about 7 days when using the fitness tracker with continuous heart rate monitoring. However, if you enable the Tone analysis, you'll have to charge it daily. For the Fitbit devices, the Versa 3 and Sense have up to 6 days of battery life, while the Charge 4 has 7 days of battery life.
Cost/Pricing
With Amazon Halo, you pay for the hardware and the subscription for some features. It has a reasonable subscription of $3.99/month. But the Fitbit has a one-time price and is a great fitness tracker for beginners.
FAQs
What is the Main Difference between Halo and Fitbit?
Although both devices can spot the intensity of your activities, Fitbit can automatically recognize the type of exercise or activity you're doing, but Halo can only identify running and walking, then classify the activities into light, moderate, and intense activities.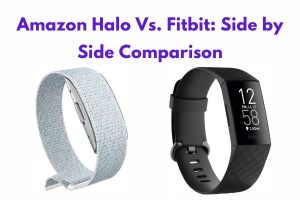 Parting Shot
The fitness tracker you choose purely depends on your personal preferences. Both the Fitbit and Amazon Halo are great devices but go for the Amazon Halo if you're looking for a cost-effective platform.