Are you torn between the Halo and the Whoop, no worries… I've got you covered. In this post, I'll be comparing the Amazon Halo vs Whoop 4.0.
I will examine the fitness trackers' features, benefits, and drawbacks to help you make an informed decision about which one to choose.
I will show you how each product will help you get the most out of your sleep, workouts, and steps in between.
Amazon has decided to discontinue Halo (Halo Band, Halo View, and the Halo Rise), effective July 31, 2023. The Amazon Halo app will no longer function after August 1, 2023. Customers who have paid the $4 per month subscription fee, or have recently purchased a Halo product, may be entitled to a refund, and Amazon is also providing a way to return and recycle Halo products.
Table of Contents
| | Amazon Halo View | WHOOP Strap 4.0 |
| --- | --- | --- |
| Image | | |
| At a glance | Halo Band includes access to basic features like steps, heart rate, sleep time, and sleep tracking | Smaller, smarter, and designed with new biometric tracking, including skin temperature, blood oxygen, and more |
| Subscription | Works best with a subscription | Required |
| Display | No | No |
| Band Material | Silicone and soft-woven fabric bands | SuperKnit band |
| Heart Rate Variability | Yes | Yes |
| Resting Heart Rate | Yes | Yes |
| Water Resistance | Up to 50 meters | Up to 10 meters |
| Strain Coach | No | Yes |
| Sleep Reports | Yes | Yes |
| Blood Oxygen Level | No | Yes |
| Connected GPS | No | No |
| Bluetooth | Yes | Yes |
| Battery Life | 7 days (Tone disabled), 2 days (Tone enabled) | 4-5 days |
| Warranty | 1 year | 1 year |
| Price | Click here to Buy Amazon Halo | Click to Check the Current Price |
Both devices have their pros and cons. Amazon Halo is cheaper than Whoop, but it doesn't track as many metrics as Whoop does. On the other hand, Whoop is more expensive than Amazon Halo but it offers more features.
Ultimately it comes down to what you need from a health tracker: if you just want something basic that tells you how many calories you've burned each day then Amazon Halo would be fine; if you want more detailed information on things like sleep quality and recovery then go for Whoop instead
Related: Whoop vs. Garmin
How Does a Fitness Band Work?
Fitness bands work in collaboration with a corresponding app on your phone to receive and send data via Bluetooth. Using motion detectors and heart rate sensors, these gadgets track your physical activity and physiological signs while resting on your wrist.
Most fitness trackers are sweat- and water-resistant up to 50 meters, so you don't have to worry about damages caused by water or sweat. This app uses recorded data to help you set personalized sleep, health, and fitness goals.
You should wear your band while you sleep to understand your sleep and the daily exercises that will help you feel better in the morning. Fitness trackers are a great way to improve your overall well-being and understand your lifestyle habits.
Related: Whoop vs. Apple Watch
Amazon Halo vs. Whoop: What Sets Them Apart?
Let's start comparing Amazon Halo vs. Whoop in terms of appearance, comfort, activity tracking, price, and other specs.
Appearance, Design, and Comfort
Amazon Halo is designed for guys who have simple taste. This band comes with three basic designs that will match well with any workout outfit. The color options include black and onyx, blush and rose gold, and winter and silver. When you order Whoop directly from the manufacturer's website, you'll get one onyx band and a band color of your choice. Additionally, you can find numerous ways to customize the design of the hook, clasp, and band.
The Amazon hallo is relatively thin and light, making it a great option for those who prioritize comfort. This Whoop alternative has a Velcro strap that makes it easy to take on and off, but it can be tough to get it to the tightness you need.
On the other hand, Whoop is a little thicker, although it's lightweight. You'll appreciate the fact that it's easy to achieve a perfect fit with this band. It's worth noting that it will take some practice to get used to opening the clasp.
Related: Whoop vs Fitbit
Activity and Workout Tracking
Amazon Halo offers amazing activity and workout tracking. This band captures your activity and categorizes it into intense activity, moderate, and light activity, along with the heart rate. It also automatically tracks your steps, heart rate during the activities, and calories burned. What's more, it has different guided exercise programs that can be launched from the app.
Conversely, the Whoop is a serious device for fitness enthusiasts and aspiring athletes. If you prefer metrics-driven wellness, the Whoop is for you. This product doesn't have a display like the Amazon Halo band to display calls and notifications. It is also on the expensive side because of the monthly subscription. Whoop tracks your stain score and recovery score based on HRV, Heart rate, and Sleep scores.
Halo Band vs Whoop: Sleep Tracking
When it comes to sleep tracking, the Amazon Halo provides you with an overall Sleep score and provides details about your sleep stages and other crucial metrics. For the Whoop, sleep data provides insights into your Recovery Score. This score is based on heart rate viability (HRV), resting heart rate (RHR), and sleep quality. It also displays the Recovery Score which shows whether your body is prepared for training.
Amazon Halo vs Whoop: Battery
The best fitness tracker should have long-lasting battery life. When comparing Amazon Halo and Whoop, the Whoop comes with longer battery life. Amazon notifies you that it will consume a significant amount of battery before turning on the tone tracking feature.
For Whoop it has a battery life of 5 days, and the charging aspect is impressive. The best thing about this device is that you don't need to remove it to let it charge. This allows you to monitor your activities all day long.
Whoop vs Amazon Halo: Cost/Pricing  
Price is a crucial factor that can play an important role in deciding the fitness tracker that's right for you. Both bands come with a monthly membership fee. However, Amazon Halo has a super low monthly fee, but you have to pay an initial fee for the band. The Whoop provides its basic bands for free but has a monthly membership fee of $30.
Amazon doesn't require you to sign up for a contract, and you can quit the membership at any time. On the flip side, Whoop has a free $30 band and charger after you sign up for one of their membership options.
Related: Whoop vs Fitbit
Amazon Halo Band Review
This fitness band has the most detailed and accurate tracking features. It's one of the best in the market, but you need a subscription to get a detailed analysis. The Amazon Halo comes in three different colors: Winter+silver, Black+onyx, and Rose Gold.
Pros
Elegant color choices
Affordable
Durable and light design
Accurate tracking data
Cons
No GPS
Fat measurement and tone analysis are available only on subscription
Related: Oura Ring Vs Whoop
Whoop Strap 4.0 Review
The Whoop Strap 4.0 prioritizes functionality and data analysis. It measures your strain, calculates your recovery, and recommends the optimal workout you need to perform. Its sleep data is impressive, and sleeping with the device is easy, thanks to the ergonomic design.
Pros
Exceptional design
Practical charger
Lightweight
It has several designs
Cons
No GPS
You must be connected to a network
Expensive service
FAQs
Is Amazon Halo the same as Whoop?
While there are similarities between Halo and Whoop (they are both screenless and feature woven bands), the two fitness trackers have different focuses, features, and pricing.
Does Amazon Halo track blood oxygen?
Yes, the Amazon Halo View lets you access on-demand blood oxygen levels. This lets you know the amount of oxygen circulating in your blood at any given time.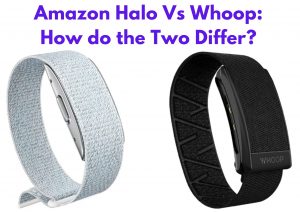 Related: Biostrap Vs Whoop
Conclusion
When looking for a fitness band, you can't go wrong on either the Amazon Halo or Whoop. If you're looking for detailed, personal data, go for the Whoop.
As for the Amazon Halo, it's made for those looking for an effective device to measure their activity levels and has built-in meditation and workout programs.
I hope my Whoop vs Halo comparison post has helped you decide on the activity tracker to settle for…