There are a lot of different fitness trackers on the market these days. And it can be tough to decide which one is right for you. If you're looking for a tracker that does more than just track your steps, then you might be wondering which is perfect between Biostrap and Whoop 4.0.
Despite similarities, Whoop 4.0 and Biostrap have several differences between them. In this Biostrap vs Whoop post, I'll cover all the similarities and differences between the two fitness trackers.
Table of Contents
Related: Whoop vs. Garmin
Biostrap Vs Whoop 4.0: How do the two differ?
What's the difference between them? Read on to find out.
Appearance, Design, and Comfort
Both Biostrap and Whoop are available in the form of a fitness band made of plastic-like material attached to a strap. Although Whoop can be placed on the triceps or forearm, they're designed to be worn on the wrist. The Biostrap's core unit measures 91×91 cm, while the Whoop is a bit larger but thinner. The other main difference is that the Biostrap comes with an optional shoe pod that can be attached to our sneakers for activity tracking.
Both devices are supposed to be worn around the clock, so they have impressive water resistance. Whoop 4.0 has 3 ATMs, while Biostrap 5 ATM rating. Both of them lack buttons or displays, so you need a smartphone app to view the insights and statistics.
Additionally, they have no vibrations for notifications since their main goal is to keep things simple, preserve the battery, and reduce distractions.
Related: Whoop vs. Apple Watch
Activity and Workout Tracking
As stated earlier, Biostrap comes in the form of an optional foot pod and wristband. However, the shoe pod is only applied in activity classification. The Whoop alternative collects crucial data like active calories, sleep, steps, heart rate viability, heart rate, oxygen saturation, and respiratory rate. With this device, you'll get sleep and recovery scores daily on a scale up to 100. Biostrap has an interesting aspect that automatically detects, tracks, and analyzes repetitive exercises.
On the other hand, Whoop has sensors that collect data on HRV, heart rate, ambient temperature, and electrodermal activity all day long. This is the main reason why most athletes prefer this wearable. It also has a high sampling rate that allows it to give statistics with great accuracy.
Related: Amazon Halo Vs Whoop
Heart Rate Monitoring
On Biostrap, the heart rate monitor functions through red photodiode LEDs, while on Whoop, it works through green ones. Both are effective at tracking HRV, but Biostrap can also track blood oxygen, thanks to the red photodiodes.
Sleep Tracking
Biostrap doesn't need any extra subscriptions or purchases to perform sleep analysis. However, if you want improved biometric data collection that includes snoring detection, there is a subscription for the service. This device has adequate sleep-tracking functionality that gives your overall sleep score.
Conversely, the Whoop provides insights on the number of times you've woken up in the night, how long you spent in each sleep cycle, your resting rate, and analyzes your sleep performance.
Related: Biostrap Vs Whoop
Battery
Biostrap battery should be charged daily since it won't last more than two days. Biostrap usually sends a notification on the mobile app when the battery level is below 20%. The Whoop battery can last for five days. The best thing about Whoop is that you don't need to take it off for charging. All you need is to slide the battery pack on without removing the strap from your wrist.
Additionally, Whoop comes with a battery indicator, which helps you to check the battery status. This feature is not available in Biostrap.
Whoop vs Biostrap: Pricing
Biostrap and Whoop have a huge price difference. Biostrap band costs $175, which is enough to monitor recovery. But if you want additional accessories, you can get a Shoe pod at $250. There's another option that goes for $320, which includes a heart rate chest strap.
Whoop has a different model that requires a 6-month membership at $30 per month. However, the cost will be reduced if you choose an annual subscription. (Check out this post that explains whether you can use Whoop without membership).
Related: Oura Ring vs. Whoop
FAQs
Can You Purchase Biostrap or Whoop on Amazon?
No, these devices are not available on Amazon. You can buy them from their official websites.
Are Biostrap and Whoop Waterproof?
Are Biostrap and Whoop Better than Regular Smartwatches?
Biostrap and Whoop are not smartwatches; they belong to different categories. So to determine whether they are better or not, you need to compare their functionalities.
Do Biostrap and Whoop Function on Android?
Yes, they do. These devices are compatible with both Android and iOS.
Can I Return my Biostrap If I'm Not Satisfied?
Biostrap comes with an impressive 100-day return policy. You can take advantage of that and determine if you need it or not.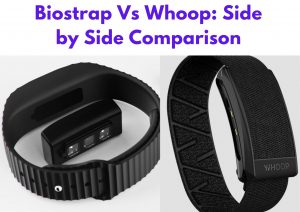 Related: Whoop vs Fitbit
Conclusion
Biostrap and Whoop are not your ordinary wearables. They are designed to focus on tracking and give a record of how you're recovering. They have similar metrics like recovery, daily activity, and sleep score. However, the main difference comes in the sampling frequency and price. Ultimately, the device you choose will depend on your fitness and health goals and budget.