Fitness trackers have become more advanced and attractive over the years. If you want a more discreet option that is comfortable to wear at all times, you might be interested in the Oura Ring. Although it looks like jewelry, the Oura Ring is more feature-filled than your ordinary ring.
Oura's ability to track sleep effectively compared to the wrist-worn model makes it a favorite choice for most fitness enthusiasts. But are Oura Rings readily available? Here is what you need to know about Oura Ring.
Table of Contents
Related: Oura Ring Alternatives
Where Can I Buy the Oura Ring?
Currently, Oura rings are only available for purchase on the company's website and in a store in Finland. You can choose from a variety of different styles, colors, and sizes to find the perfect ring for your loved one. Plus, Oura rings are made with high-quality materials that will last long-term.
Can I buy Oura Ring on Amazon?
No, you currently can't buy the Oura Ring on Amazon. You can only buy the ring only from the company's website. Buying from the company's website is a great way to get your hands on this amazing ring quickly and easily.
Is the Oura ring sold in stores?
Oura rings are available for purchase online at https://ouraring.com/product/heritage-silver and at a store in Finland. The most convenient place to buy the Oura ring is online on the company's website (https://ouraring.com/).
What is Oura Ring?
The Oura Ring is a smart ring that's equipped with sensors to track various health metrics which can be viewed on the Oura app. The ring has sensors located on the inside surface, but they don't add any weight to the ring.
Despite its low profile and small size, this ring is a connected gadget, with an internal battery, and Bluetooth connectivity to transfer the data collected. Unlike other fitness trackers that just display your data, Oura displays your daily scores for activity, sleep, and a quick glimpse into your health habits.
For instance, this ring measures your steps, workouts logged, calories burned, naps, and inactivity. It also records the number of times you've hit your daily goals. The Oura Ring stands out from other trackers out there in the sleep score, where it measures the quality of sleep:
Body temperature
Resting heart rate
Heart rate viability
Time spent in REM, deep, and light sleep
Respiratory rate
Currently, it's among the few sleep trackers that can measure both your heart rate variability and body temperature.
Features of the Oura Ring
Oura Ring has an impressive design that acts as a piece of jewelry and a connected activity and health tracker. It comes in two styles, called "Heritage" and "Balance", both of which have multiple metallic finishes. The Oura Ring has titanium built and is available in five colors, including matte gray, silver, gold, black, and diamond.
The ring weighs between four and six grams, depending on its size, but it's lighter than the average wedding band. It comes with a seamless inner molding and it's also nonmetallic and nonallergenic. Additionally, Oura ring is waterproof up to 100 meters, meaning it's suitable for washing dishes, swimming, and bathing.
It boasts advanced sensor technology that depends on a snug fit for accuracy. So ensure you choose a ring that fits you well. Additionally, it comes with a rechargeable battery that can last for 4 to 7 days, with a full charge taking between 20 to 80 minutes.
FAQs
Does the Oura Ring Go On Sale?
Nowadays, Oura doesn't offer a discount on daily purchases, or discounts through advertisements and third-party promotions. However, they may have discounts on holidays and promotional periods.
How Much Does Oura Ring Cost?
The Oura ring prices range from $299 to $999 depending on your favorite color finish. All models come with the same technology and are built of lightweight titanium with a scratch-resistant coating. Although the basic ring costs $299, the cost increases to $399 for gold and matte gray models and up to $999 for a diamond ring.
An additional shipping fee may also apply depending on your location. If you're not satisfied with the product, you can exchange or return it within 30 days, but it must be undamaged and fully functional. However, handling and shipping costs are non-refundable.
Keep in mind that you can only exchange your ring for a different style, size, or color, but devices bought with gift cards are non-refundable. Additionally, the Oura Rings have a 2-year limited warranty from the date of original purchase. If you replace the ring for any reason, it will be covered by the remainder of the warranty.
Is There a Monthly Fee for Oura Ring?
Which Finger is Best for Oura Ring?
As long as the Oura Ring fits snugly, there's no wrong or right finger to put on the device. However, the ring, index, and middle feel more comfortable for all-day comfort.
Related: Oura vs Fitbit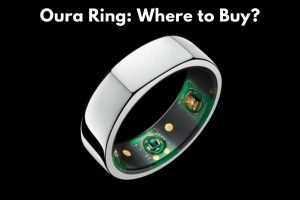 Parting Shot
If you're looking for an activity and sleep tracker that's fashionable and easy to use, go for the Oura Ring. This attractive device is a great tool for anyone looking to take more control over their daily activities. Although it's a bit expensive, it's worth your hard-earned cash.