Smartwatches and fitness trackers are among the best accessories to help you track your daily activities and monitor your fitness levels.
Although they are classified as the best wearable tech accessories, fitness trackers and Smartwatches have some differences. If you're a fitness enthusiast, a fitness tracker may seem like the real deal. But is it?
Here's what makes Smartwatches and fitness trackers different and how to choose the best device.
Table of Contents
What is a Smartwatch?
A smartwatch has a very similar design to a typical watch. But the ability to control functions and sync with your smartphone is what differentiates it from regular watches.
Although smartwatches can function independently, they're usually paired with a smartphone, so you can easily receive notifications on the watch face.
These devices can also function independently because they have their own battery, and some models have access to the internet without the support of a smartphone.
Main Features of a Smartwatch
Smartwatch manufacturers are trying to evolve existing features and develop new ones in an effort to keep up with the high competition. Here are some top features of a smartwatch:
Alerts and Notifications: These are the most popular features of a smartwatch. These notifications include business-related messages or notifications from social media platforms.
Health and Wellness features: Most smartwatches also function as fitness trackers. The most popular features are the heart rate monitor, pedometer, blood pressure monitor, sleep monitors, thermometer, and swim-specific metrics.
Navigation Features: These features include a compass, location-tracking services (Glonass, GPS, and Galileo), and visual maps.
Time-related Features: Although these devices are known as smart devices, they're still watches. Time-related features include stopwatches, timers, and alarm clocks.
What is a Fitness Tracker?
A fitness tracker is a wearable gadget that collects activity-related and exercises data with a particular goal in mind.
Like smartwatches, fitness trackers can be synced with apps on your smartphone.
Generally, a fitness tracker is designed to offer you an array of health and exercise-related features.
Main features of a Fitness Tracker
Here are some crucial features you may want to look out for when choosing a fitness tracker.
Heart Rate Monitor: This feature allows you to monitor your heart rate to get a better idea of how many calories you've burned during a workout and notifies you when you're in the target heart rate zone.
Exercise Recognition: Fitness trackers have activity sensors that can detect when you're cycling, running, doing aerobic exercise, and walking.
Smartphone Integration: Some fitness trackers have some extra functionality for your smartphone. Some can control music, receive notifications when your phone is getting a text or call, and others display texts and make calls.
GPS: GPS helps you to map your route and provide data like your pace and distance traveled.
Movement Reminder: This simple feature reminds you to move when you've been still for too long.
Smartwatch Vs. Fitness Trackers: Similarities
Smartwatches and fitness trackers have overlapping features that make them similar. The main feature is the design. Both gadgets have a design that resembles the traditional wristwatches and are worn in the same way. It's also possible for fitness trackers and smartwatches to look almost the same.
Both devices come with similar data collection and tracking functions. They are equipped with calorie counters, heart rate monitors, and sleep trackers. Both devices also have effective GPS tools that track your movements from one point to the other.
Additionally, smartwatches and fitness trackers are accessed in the same way. Both gadgets have touchscreens for interfaces and can be linked to your smartphone. However, the screen sizes vary depending on the brand.
Smartwatch Vs. Fitness Trackers: Differences
Although these devices function and look very similar, they have some key differences between them. They can be summarized as: fitness trackers are designed for data gathering and monitoring while smartwatches are built for communication and crucial updates.
Although smartwatches can track your fitness, fitness trackers are mainly built to focus on daily activity and health monitoring. Like fitness trackers, smartwatches can track the distance covered, calories burned, and some will offer 24/7 heart rate monitoring. Some people may prefer a smartwatch over the latter because they will get emails, calls, social media, and texts updates.
Compared to smartwatches, fitness trackers are equipped with an extra function for location and health monitoring. Some fitness trackers from brands like Garmin have high-quality GPS tools that aren't available in smartwatches.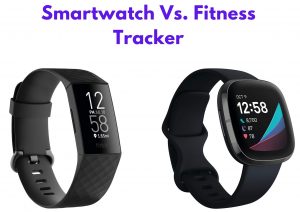 Finally, these devices can vary in their construction. Smartwatches are available in several shapes and sizes, so you can choose one that resembles a classic wristwatch or one with a modern design. However, fitness trackers have limited style options. Most of them have slim profiles that are comfortable for wear for prolonged periods.
Which One Should You Buy?
There are benefits of choosing each of these gadgets. Before making the final decision, identify why you need a wearable. If you want a convenient and advanced way to track and monitor your fitness, go for a fitness tracker. If you're looking for an effective way to communicate while working out, choose a smartwatch.
The device you choose will depend on the functions that are crucial to you. However, choose a device that will match your needs and budget.