Smartwatches have taken the market by storm. They have lots of functions that allow you to get top-notch sleep tracking, activity tracking, and more. New for the Fitbit is the feature of Spotify that gives you a chance to listen to your favorite tunes during a run or indoor workout.
So, if you own one of the Fitbit smartwatches that support apps, here's what you need to know about Spotify on Fitbit.
How to Download Spotify on Fitbit
If you want to stream Spotify playlists from your Fitbit, here are some simple steps to download the app.
Open the Fitbit mobile app and click your avatar icon in the upper right corner.
Click the gadget you want to download Spotify onto.
Choose apps.
Under the 'All Apps' tab, search Spotify.
Press install and log into your account.
Related: Best Fitbit for Women
Spotify on Fitbit: What You Can Do
Once you've downloaded the Fitbit Spotify app, you'll be able to make use of its powers. Here's what you can enjoy with Spotify.
Control Music
Once you start playing music from Spotify on another gadget, you'll be able to access the Spotify app on your Fitbit and skip back and forward, play, and pause. When you tap the middle icon on the top of the screen, you can shuffle upcoming tracks directly from your watch.
Add Tracks to Your Spotify Library
If you have a favorite track, you want to download to your Spotify library for the future, just tap the heart icon to download.
Use Spotify Connect
This feature is handy when you don't want to pull out your phone to control your music. You can use the Spotify Fitbit app to beam music to other sources.
Related: Best Fitbit for Men
Spotify on Fitbit: What You Can't Do
No Offline Playback
With Spotify, it's not possible to play music when you're far from the phone; this means music can't be stored on the smartwatch. Therefore, the paired devices must stay within the Bluetooth range of your watch, with internet connectivity and the Fitbit app in the background.
You Need a Spotify Premium Account
You must have a premium account to access some features in the Fitbit app. If you're using a free account, you'll not be able to link the account after downloading the app.
No Music from the Speaker
Fitbit devices lack built-in speakers, so you have to play the music on another device, like a speaker or a phone.
Is Spotify Free on Fitbit?
Spotify has a free package that allows you to listen to music without paying a dime. It's accessible through the Spotify apps for Mac, Windows, and Android or iPhone gadgets. On desktop, Spotify Free allows you to choose any playlist, artist, album, or song you'd like to listen to. However, you'll receive some ads when the songs are playing.
On mobile, it's a bit restrictive since you'll be forced to listen to everything in Shuffle mode, meaning that you can't play an album straight through. Additionally, it has ads that may be annoying.
However, Spotify members with free accounts won't be able to enjoy the Fitbit version of the app. With Spotify Premium, you can enjoy high-quality streaming anytime on your watch. Additionally, this premium account gives you access to Spotify Connect, which helps you connect to several devices.
How much is Spotify Premium?
Spotify Premium comes with a standard price of $10 per month. Although there are no legitimate ways to acquire Spotify Premium for free, you can get discounts in some ways.
The Spotify Family Plan is the most discounted option that allows you to add up to 6 people for $15 per month. The more people you include in your list, the cheaper the cost per person. However, people using Family Plan must live at the same address.
If you're a student with proof of an eligible university, you'll get Spotify Premium at $5 per month.
How to Upgrade to Spotify Premium
When you want to subscribe to Premium, go to the Spotify Premium page. Tap Get Spotify Premium and sign up or log in to your account. Make your payment using PayPal or your credit card. After that, you'll be able to access Premium on all gadgets that you use Spotify with.
However, if you're an iPhone user, avoid subscribing using the Spotify app on iOS because they charge every in-app purchase in the App store. To avoid this ridiculous charge, go to Spotify's website and choose an upgrade.
Is Spotify Premium Worth It?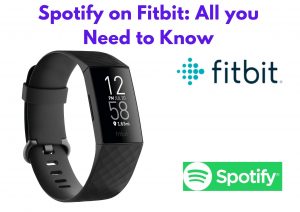 Spotify premium is a great investment since you'll gain access to top-notch music, no stubborn ads, and you can save your music on your phone. A Family Plan is also an attractive deal for unlimited music streaming. With Spotify, you have access to your collection, and it's easy to share with your friends.
However, there are scenarios where Spotify premium isn't worth the cost. First, if you've subscribed to another music streaming platform or use Spotify a few times in a month, Spotify may not be for you. Additionally, if you have a huge music collection, you might not need the Spotify premium.
Conclusion
Spotify is the best way to ensure you enjoy your favorite tunes on your Fitbit device. If you're looking for a music streaming service that will keep you up-to-date with new releases, Spotify is for you.