With a myriad of streaming platforms available, it can be overwhelming to choose the perfect one to suit our preferences and needs. One platform that has gained considerable popularity in recent years is Deezer. But what exactly is Deezer, and can it be used on Fitbit?
In this post, I'll be talking about everything you need to know about Deezer and why it should be your next music streaming option for your Fitbit.
Warning: Deezer was removed from all Fitbit watches from the 1st of April 2023. If you subscribed to Deezer through an offer with Fitbit, you will remain a Deezer subscriber with all the benefits of a Premium account
What is Deezer?
This is an audio streaming service that delivers high-quality audio. However, this is not the only service it provides; it's just an option.
Deezer comes with a library of lossless audio files that you can download or stream to your Fitbit if you choose to. If not, the service gives the average user a chance to choose sound quality and EQ settings to suit their preferences.
Deezer is available in 180 different countries and has more than 16 million users.
Is Deezer Any Good?
This music streaming service gives millions of listeners access to more than 73 million tracks. This makes Deezer one of the largest audio streaming services on the globe. Whatever tunes you're looking for, you'll find them on the music platform.
This app is super easy to use, and you can easily stream FLAC files right on your desktop. Additionally, this music platform works well and doesn't fail. It also integrates well with Fitbit smartwatches.
Deezer Compatible Devices
How Do I Get Deezer on Fitbit?
The Deezer app functions on Sense, Ionic, and Versa range. There's the likelihood that the app will be already installed on your gadget. However, this is dependent on your country since the service is not available everywhere.
If it's not installed, you can download the Deezer app. After that, ensure you're connected to Wi-Fi and launch the app on your smartwatch. You'll receive an activation code which you will need to enter at Deezer/fitbit.com. This is a unique code so type it correctly.
When you enter the code, you'll be able to access your Deezer account or create one if you're a new member. This code lasts for a few minutes, so you need to fill it out immediately. If you enter the code on the Fitbit website, it will disappear from your smartwatch.
What Audio Content Can You Find?
As stated earlier, Deezer has more than 73 million songs that you can enjoy. Whether you love classic rock or jazz, this app got you covered.
Besides music, Deezer provides podcasts. This app has more than 40,000 podcasts that you can listen to.
Is Deezer Free For Fitbit?
No. You will need Deezer Premium to use Deezer on Fitbit.
If you don't want to subscribe to the monthly music service, there's a free option. The free option has some drawbacks.
Deezer Free won't work on your Fitbit,
There will be ads that will appear when the music is playing,
You'll not be able to listen to music when offline,
You will be limited to mobile devices only. So if you're going through a tunnel or underground on the subway, you have to wait until you access the signal again.
How Much Does Deezer Cost?
If you want an out-of-the-world musical experience, be ready for a monthly subscription fee. Fortunately, the Deezer subscription is cheaper than any other leading audio streaming service. You can subscribe to Deezer Family ($14.99 per month), Deezer HiFi ($14.99 per month) and Deezer Premium ($9.99 per month).
If you're a student, you have an option of $4.99 per month, but you must prove that you've enrolled in university.
Does Deezer Have an Offline Mode?
Absolutely! If you want to save files to your Fitbit to listen offline, it's possible with Deezer.
Downloading songs with this app is super easy, and you just need to switch a toggle on your favorite album or playlist you want to download.
How Can I Transfer My Music Files or Podcasts?
It's not possible. Although this service will allow you to upload your favorite music files, they will not be available on your Smartphone app or smartwatch. Uploading these files is only possible with Fitbit watches that allow direct offline uploads.
Can I Delete Deezer From Fitbit?
If you don't need Deezer on your device, you can easily delete them to create more space. Here's how to delete apps on Fitbit: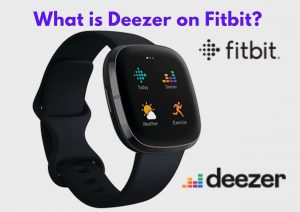 Open the Fitbit app on your smartphone.
Tap your profile icon at the top of the screen to display the account.
Click the name of your device to display all the information.
Tap "Apps," and the apps screen will appear and will display all apps you've installed on your device.
Click the app you want to uninstall from your device.
Finally, click "Remove," and the Remove button will be replaced by Install. The app will be automatically removed from your device.
Conclusion
If you're looking for a music streaming service that's easy to navigate on both mobile and desktop, the Deezer might just be for you. Although it lacks a live radio, this app is a solid streaming service that will provide the best sound quality.