Fitbit comes with an amazing warranty program that ensures you're back to working out in no time.
Here's everything you need to know about the Fitbit warranty and how to make a warranty claim.
At a glance…
Fitbit provides a one-year limited warranty for its products (including the Fitbit Charge 5) in the US and a two-year warranty for the European Economic Area (EEA). The limited warranty covers manufacturer defects but not incidental or intentional damage such as scratches and dents. Fitbit also offers an extended warranty called the Fitbit Protection Plan (FPP), which increases the warranty period from one year to two years and covers accidental damage.
Why Use Fitbit Warranty?
Fitbit warranty comes in handy strap on your wristband is worn out or broken. You can also use this warranty if your screen's display is dull or not as bright.
Additionally, if your battery is not lasting as it used to, this is a valid reason to use your Fitbit warranty.
Related: Best Fitbit for Women
What is Fitbit Limited Warranty?
Fitbit comes with a one-year limited warranty for the initial user of the Fitbit product. This guarantees that the product will be free from damage under normal use for one year. However, Fitbit doesn't warrant damages arising from unfair use of the product. This limited warranty doesn't cover errors arising from services offered by Fitbit or the software in the product.
If you bought a refurbished product, the gadget, and its accessories have a 90-day warranty from the date of purchase.
Fitbit Warranty Registration
You don't need to do any form of Fitbit warranty registration. Warranties begin from the date of shipment or sale, or if it's a gift without proof of purchase, it starts from the date you connect it to the Fitbit app or website.
What is Fitbit Extended Warranty (Fitbit Protection Plan)?
Fitbit also has an extended warranty for US users called Fitbit Protection Plan (FPP), covering your gadget for two years. As the name suggests, the extended warranty extends the normal warranty from 1 year to 2 years.
However, Fitbit Protection Plan is only meant for Fitbit products bought in the US from Fitbit's online shop. The protection plan also covers some accidental damages, but you must buy FPP within 30 days after your purchase.
Related: Best Fitbit for Men
Fitbit Warranty Check
Ensure you check your Fitbit warranty coverage (1 year for US users and 2 years for EU or 90 days for refurbished products). If you misplaced your receipt or received the Fitbit as a gift, check the warranty from the date you started using the Fitbit app. Also, check if your credit card company can give discounts on potential replacements.
Check the serial number of your Fitbit product.
Make sure you have the email linked to your Fitbit account, Fitbit app, and your gadget.
What Happens If My Fitbit is Past the Warranty Period?
Sometimes when you want to verify your warranty details, you may be told that your device does not meet the warranty replacement requirements. If this happens, contact Fitbit, and if they don't offer assistance with the gadget's warranty, request a discount for customer loyalty and goodwill.
You can also check the method you used to purchase the Fitbit product. Most credit cards have extended warranties on these devices. You can even qualify for an extended warranty replacement. Check with your card provider to confirm the card benefits and the policies. However, your entire purchase must have been made using that card to qualify.
How do I claim warranty on my Fitbit?
If your device has issues and you want to make a Fitbit warranty claim, you must contact Fitbit support through Email, Twitter, live chat, or phone call. After this, the customer service personnel will guide you through the entire service and the options you have, including the necessary return authorizations.
In most cases, they'll ask for your Fitbit account details and enquire where your device is faulty. Finally, they will ask you to mail the Fitbit in its original packaging. However, Fitbit doesn't specify the time your claim will take, but it may take a while.
Does a Replacement Fitbit Have a Warranty?
No. A replacement gadget doesn't come with a warranty, but it's covered by the original Fitbit's warranty. So if your replacement happened after 6 months of use, you still have 6 months remaining. Fitbit has records of both gadgets, showing the serial numbers of the replacement and original products and their serial numbers.
Does Fitbit Guarantee Cover Strap?
Fitbit also covers its bands during the warranty period. Here's what it covers in case of broken bands.
Bands that get faulty but not your fault, for instance, the ones that break the metal clasp.
Faulty bands, including problems in quality and materials under normal use.
However, Fitbit doesn't cover damages caused by improper use, normal wear and tear, dents, and scratches.
How to Claim a Refund for a Faulty Fitbit
If you bought your device from a third-party store, you must check the retailer's return policies. Also, Fitbit doesn't exchange devices. Instead, it refunds the amount you've spent on the device, and you place a new order. If you're looking for a refund, you must meet the following: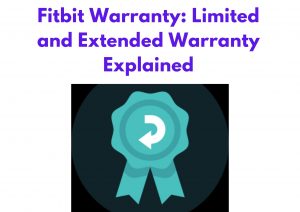 Ask for a return authorization within 45 days of the shipment date.
Send your Fitbit product and all its accessories in the original package.
Ensure you indicate the return authorization number, a copy of the sales receipt, or a notice of the gift received.
However, Fitbit doesn't shoulder any handling and delivery charges, taxes paid, or gift wrap costs.
Fitbit Warranty Amazon
Fitbit trackers and smartwatches bought through amazon.com are also eligible for the Fitbit warranty. The warranty is given by Fitbit, not Amazon.
Fitbit Warranty Phone Number
If you want to contact Fitbit customer care about your warranty by phone, use this number: +1 (877) 623-4997 (Monday – Friday 24X5 PT).
FAQs
How long is Fitbit warranty?
Fitbit Limited warranty for an original purchaser outside the European Economic Area (EEA) is 1 year from the purchase date. For an original purchase in the EAA, the Fitbit warranty period is 2 years from the purchase date.
Does Fitbit have a 2-year warranty?
Yes, an original purchaser in the European Economic Area (EEA) gets 2 years of Fitbit warranty. For purchases in the United States, you can increase the Fitbit warranty to 2 years by buying a Fitbit Extended Warranty also called Fitbit Protection Plan (FPP).
What is Fitbit Charge 5 warranty period?
Fitbit provides a one-year limited warranty for Fitbit Charge 5 in the US and a two-year warranty for the European Economic Area (EEA). The warranty covers manufacturer defects but does not cover any incidental or intentional damage like cosmetic damage such as scratches and dents.
If your Fitbit Charge 5 develops a defect and you send a return authorization request to Fitbit within the applicable warranty period, Fitbit will, at its option and to the extent permitted by law, either repair the Charge 5 at no charge, using new or refurbished replacement parts or replace the product with a new or refurbished product.
Conclusion
Fitbits are designed to cater to your fitness and health needs. If your Fitbit fails to function properly, don't hesitate to claim your warranty. I hope this post will help you to understand how the Fitbit warranty works.