Garmin Vivoactive 4 vs Apple Watch Series 7: Which Smartwatch Reigns Supreme? 🥊📱 Uncover the ultimate comparison between Apple Watch Series 7 and Garmin Vivoactive 4 to make an informed decision.
Discover their features, performance, and design to find the perfect smart companion for your active lifestyle! 🏃‍♂️💨
Table of Contents
Garmin Vivoactive 4 vs Apple Watch Series 7
Appearance, Design, and Comfort
The Garmin Vivoactive 4 and Apple Watch Series 7 have the same hardware, but the main difference is the design and size options. Vivoactive 4 comes in two case sizes, 40mm and 45mm in diameter. There are six colors to choose from and has several interchangeable bands. It has an always-on display which you will also find on the Apple Watch Series 7.
With both watches, you can customize them with a variety of watch faces to suit your style. The Apple Watch 7 is available in 41mm and 44mm sizes, and it feels a bit heavy compared to Vivoactive 4.
Related: Garmin Forerunner 935 Vs Forerunner 945
Activity and Workout Tracking
Both of these trackers are viable, impressive workout companions. They come with various pre-loaded sports that you can track to help you lead an active lifestyle. Garmin Vivoactive 4 offers on-screen coaching, so you can easily use animated video on your watch to guide you on everything from strength to cardio, pilates, and even yoga.
The Apple Watch has Activity Rings that track your daily progress towards getting sufficient exercise, standing time, and move minutes. Generally, the Vivo Active 4 is miles ahead in fitness tracking.
Calorie Tracking
Both the Garmin Vivoactive 4 and Apple Watch Series 7 help you track the calories burned. The Apple Watch Series 7 keeps track of the calories burned and displays your progress compared to your daily goal. Although it's accurate in calories tracking and records the calories metrics, you need to use your iPhone to view detailed calorie data.
The Vivoactive 4 also records your calories burned for each recorded day. The calories burned include your activity calories plus base metabolism.
Related: Garmin vs Whoop 4.0
Sleep Tracking
The Apple Watch Series 7 comes with an automatic sleep tracker that tracks your sleep patterns. With this smartwatch, you can choose to track your sleep manually or set the sleep auto-detection. It also has a set-and-forget feature that's easy to start and run automatically.
On the other hand, the Vivoactive 4 has an automatic sleep tracker that detects your sleep and monitors your movements when sleeping. It also gives statistics on sleep levels, total hours of sleep, and sleep movement.
Heart rate monitoring
These fitness trackers are easy-to-use health devices for every fitness enthusiast, thanks to the built-in heart rate monitors. The Apple Watch Series 7 comes with an effective heart rate monitor that can detect your current, resting, and walking heart rates and help you to compare them. The Garmin Vivoactive 4 also comes with an accurate heart rate monitor and is also compatible with chest heart rate monitors. However, if both chest heart rate data and wrist-based data are available, your device will use the chest heart rate data.
Water-resistance / Waterproof
The Apple Watch Series 7 is water-resistant for up to 50 meters. This means you can use it for shallow-water activities like swimming and showering. The Vivoactive 4 is rated 5ATM for water resistance, meaning it can handle a pressure of up to 164 feet. This makes both trackers great for swimming.
Garmin Vivoactive vs Apple Watch: Battery
Battery life is a crucial aspect when choosing a smartwatch. Basically, you would want a smartwatch that lasts as long as possible on a single charge. Garmin Vivoactive 4 is miles ahead on battery life because it has an impressive eight days of battery life per charge. However, if you use the GPS feature continuously, the battery life reduces to 18 hours. Conversely, the Apple Watch Series 7 needs to be charged daily since its battery life is about 18 hours.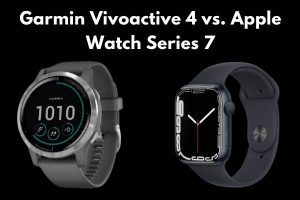 Garmin Vivoactive 4 vs Apple Watch 7: Cost/Pricing
The Apple Watch Series 7 costs $399 for the 41mm model and $429 for the 45mm model. The Vivoactive 4 goes for $349.99, so it's a great fitness tracker that won't blow a huge hole in your finances.
FAQs
Can you answer calls on Garmin Vivoactive 4?
Yes. The Vivoactive 4 has a speaker and a microphone that allows you to answer calls made from your phone.
Is the Garmin Vivoactive 4 touchscreen?
Yes. The Vivoactive 4 is a touchscreen model with additional side buttons for back, lap, and menu access.
Final Thoughts
If you want a fitness tracker with tons of smart functionality and activity monitoring, the Apple Watch is a good bet.
Although the Vivoactive 4 cannot compare with Apple Watch Series 7, it has a decent battery life, and around-the-clock activity monitoring, and comes at a great price.
I hope my Apple Watch vs Vivoactive 4 comparison post has helped you make an informed decision…