Apple Pay has been around for quite some time, with several iOS users making use of the secure payment technology. Although Apple Pay provides an effective and secure way to make purchases using your iOS device instead of a credit or debit card, some people are still skeptical about it.
Most consumers prefer to separate their smart devices and banking in an age where cyber security is rising. One of the most common concerns is whether or not one can get a refund on purchases made using Apple Pay.
Here's everything you need to know about the Apple Pay refund time frame.
What is Apple Pay?
Apple Pay is a secure contactless payment service that allows users to pay for products and services using their Apple Watches, iPhones, Macs, or iPads.
Benefits of Using Apple Pay
Apple Pay is More Secure Than Plastic Cards
As mentioned earlier, many people still avoid mobile payment apps like Apple Pay because they believe they might be tricked into making unintentional payments or don't trust the security.
However, Apple Pay is more secure and safer than using a credit or debit card since you require authentication from your Touch ID, Face ID, or passcode.
It's Faster Than Standard Cards
Once you're used to contactless payments, you'll realize how slow and inconvenient Chip and Pin processes are. With the limit for contactless payments slowly increasing, Apple Pay has proven to be a perfect payment solution for every transaction.
Instead of searching through your cards in your wallet and handbag and realizing that you left them in a different handbag, you can simply enjoy the convenience of a contactless payment method.
Apple Pay is Available in Almost Every Store
When Apple Pay was introduced, it was only available in a few selected stores. Although you may have used them in bigger stores and the ones you usually shopped for, you still needed to use your debit or credit card for some purchases. This is now a thing of the past. Thanks to the modern payment machines that accept contactless payments, even smaller stores have also adopted this option.
Many online businesses and apps such as food delivery, online stores, coach, flight, and rail ticket purchases accept Apple Pay. No more searching your car and house for your wallet when you're heading out.
Related: Does Panera Bread Accept Apple Pay?
Can I Get A Refund Through Apple Pay?
Just like any traditional payment method, you can easily request a refund for purchases made through Apple Pay. The only information you need is the receipt from some merchants and, in some situations, your Device Account Number.
How to get a refund for a payment card that you use with Apple Pay
In most cases, you'll get a refund even with a standard store receipt, just like you've done with other payment methods. When the merchant processes your refund, it will reflect on your payment card automatically.
However, if you lack a receipt or have been asked for further information, you'll need to have your Device Account Number. Fortunately, this won't always be the case.
Related: Does Fudds Accept Apple Pay as a Payment Method?
How To Find Your Device Account Number
Instead of the credit or debit card number from your physical card that you've linked to Apple Pay, merchants can use your Device Account Number to make refunds for purchases made through Apple Pay. Here's how to locate your Device Account Number on your iPhone and Apple Watch:
Open the Wallet app and tap the card you used to make the purchase.
Click the 'More' button to show the last four digits of your Device Account Number.
On your Apple Watch, tap the Wallet app and tap the card you used to make the purchase.
Go to your card information, where you'll find the Device Account Number.
What is the Apple Pay refund time frame?
Once your cancellation has been confirmed, a refund will be credited to your account within five working days.
How to cancel or dispute a payment sent using Apple Pay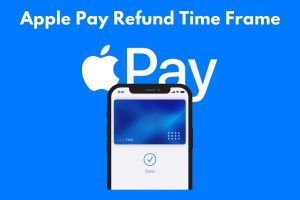 If you've made a payment and want to cancel the transaction or open a dispute, Apple Pay will sort you out. Here's how to cancel or dispute a payment made using Apple Pay:
Go to the Messages app and open the conversation, then click the payment.
Go to Apple Cash Card in the Wallet app. Under latest Transactions, click payments and tap it again.
Click Cancel Payment.
If the "Cancel Payment" option is not available, the payment has been completed. However, you can ask for a receipt to send the money back. This can take up to 3 business days, depending on your card issuer or bank.
If you're unable to receive a refund or cancel the transaction, you can contact the Apple support team for assistance.
Final Thoughts
Although Apple Pay is a convenient and secure payment option, there are times you would want to cancel a payment or request a refund for a product or service you paid for. If you want to request a refund for the payment you made using Apple Pay, the tips above will sort you out.