Welcome to our comprehensive guide on the best Fitbit Charge 5 apps! As the wearable technology market continues to evolve, Fitbit remains a leading brand in the realm of fitness trackers.
With the introduction of the highly anticipated Fitbit Charge 5, you now have access to a plethora of innovative and functional apps that can enhance your overall fitness journey.
In this post, I will explore the top apps available for the Fitbit Charge 5, focusing on their features, benefits, and how they can help you achieve your health and wellness goals.
Whether you're a fitness enthusiast, a health-conscious individual, or someone simply looking to improve your overall well-being, these apps are designed to provide you with the ultimate fitness experience.
Related: Is the Fitbit Charge 5 Waterproof?
Let's dive in and discover the best Fitbit Charge 5 apps that will revolutionize the way you track and optimize your fitness routine!
Table of Contents
Popular Fitbit Charge 5 Apps
Here are just a few examples:
How do I get apps on my Fitbit Charge 5?
You cannot download apps for Fitbit Charge 5 directly into your Fitbit. Instead, you download the apps through the Fitbit app on your smartphone (Android and iOS).
So, the first step is to make sure you have the Fitbit app downloaded and installed on your phone and your device set up.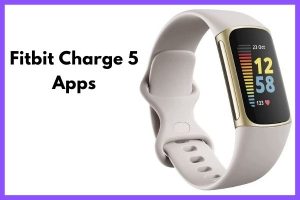 In the Fitbit app (with Fitbit nearby), tap the 'Today' tab, tap on your profile picture, and tap your device image. Now tap on 'Gallery' and then the 'Apps' tab.
Browse the available apps to find the one you want to install. Tap it to install.
Accept all the required permissions. The app should now be installed and working properly on your Fitbit.