One of the main features included in the latest Apple Watch models is the Always-On display. This amazing feature is turned on by default and may be helpful in various scenarios.
However, there are some reasons why you may want to customize or disable the feature. Here are some tips on how to use the Apple Watch's Always-On display.
Table of Contents
What is Apple Watch Always On Feature, and What Does it Do?
This feature is available on the latest Apple Watch Series models. The time is always visible in this mode, along with the most recent active app or your watch face. To preserve the battery life, the display dims when your watch is down or by a gesture of covering the display with your hand. When you tap on the screen or raise your wrist, the display goes back to full brightness.
Benefits of Always On Feature on Apple Watch
The Always-On feature is an excellent addition that comes in handy for most Apple users. There are several advantages attached to an Always-On display. For instance, it helps you check the time and more without turning/raising your wrist or tapping your watch to activate it.
This feature is also great when exercising since the Always-On display gives you seamless updates on your workout progress without raising your wrist or touching the display. For everyday use, it will be easier to check the time and other info when the hands are fully occupied, and you can't activate the display.
Essentially, some apps other than the Workout app or the watch face are blurred when your wrist is not raised. However, there are some instances where you may need to turn off this feature, like ensuring that what appears on your watch screen, like messages or calendar events on the watch face complication, is not seen by others or calendar events.
It's important to note that notifications don't show on the Apple Watch when it senses that your wrist is down.
What Apple Watch Series Ha the Always On Feature?
The Always-On feature is only available on Apple Watch 5 and Apple Watch 6.
How to Turn on the Always On Feature on Apple Watch
Always On feature allows the Apple Watch to display the time and watch face, even when the wrist is down. Here's how to turn on the Always-On feature:
Go to the Settings app on your watch.
Click Display & Brightness, and tap Always On.
Ensure you turn on Hide Sensitive Complications to hide messages, calendar events, heart rate, and more when you place your wrist down.
How to Turn Off the Always On Display on Apple Watch
Open Settings on your Apple Watch
Use the Digital Crown or swipe down to Display & Brightness
Click on the Always On to turn off the feature
How Information is Updated When Using the Always On Display
Here are some details on how information is updated when the Always-On display is on:
Complications that display live data, such as Noise and Compass, are deactivated.
Time complications like Timer and Stopwatch round the displayed info to minutes.
Other complications like Weather, Calendar, and other third-party apps, refresh as needed or once per minute.
However, the Workout is always visible when exercising to allow you to view the workout information.
How to Wake the Apple Watch Display
Here are some ways you can use to wake the Apple Watch display:
Press the Digital Crown or tap the display.
Raise your wrist. The watch will sleep again when you lower your wrist.
Turn the Digital Crown upward.
If it fails to wake when you lift your wrist or tap the display, you need to charge your Apple Watch.
FAQs
Does Apple Watch Always On Use More Battery?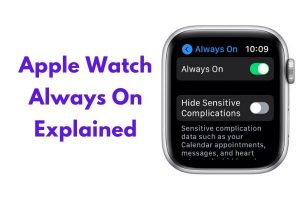 Although the Always-On display is a great feature for Apple users, it comes at a cost. When this feature is turned on, most Apple Watch users will have difficulty getting their watch to make it through a full day. For instance, the Apple Watch Series 5 comes in 40mm and 44mm size; the smaller version needs an extra charge to come close to promised 18 hours of battery life, while the larger case has enough, but it requires a minimal boost to hit the 18 hours battery life.
The Always On Display has a noticeable effect on battery life, and you may struggle to maintain its life throughout the day. However, if you only use your watch to receive notifications and tell time, the 44mm apple Watch will function until the end of the day. But if you make phone calls, listen to music, and do workouts, your Apple watch may be dead before nightfall.
Final Thoughts
Although the Always On Display has a great impact on battery life, no one can understate the value of this feature to Apple users. It's a nice feature and is worth taking the hit and dealing with the battery life issue.