Fitbit is crucial for maintaining your health. However, if you no longer own a Fitbit, don't want your Fitbit account, or want to wipe the account clean and create a new one, you can delete it using your smartphone or through the Fitbit website.
In case you change your mind, you've seven days after deleting the Fitbit account to restore data before it's permanently deleted. After seven days, you cannot recover your account.
Here's how to delete your Fitbit account on your phone or through the Fitbit website.
Table of Contents
Why Would One Want to Delete Their Fitbit Account?
Fitbit is one of the most popular fitness apps in the world today. It's incredibly important for fitness enthusiasts or anyone who wants to keep track of their health and fitness.
However, there comes a time when you might want to disconnect from your Fitbit account and give yourself some personal time back. Here are some reasons why you would want to delete your account:
Before selling your Fitbit device to another user, you need to erase the stored data, personal information, credit, debit cards and remove apps.
If you want to take some time off your busy fitness schedule.
If you no longer own a Fitbit and want to erase the information you stored in it.
Finally, you can delete your Fitbit account if you have a new device and want to clear old data linked to the older Fitbit.
How to Delete Fitbit Account on a Phone
The instructions below apply to both Android and iPhone with similar menu options for deleting your Fitbit account.
Click the Fitbit icon from the home screen and log into your account. You need to input your login credentials if you're not already logged in.
Tap on the User account icon at the top left corner of the Fitbit app to access the account's settings.
Scroll down and click Manage Data.
On the Manage Data tab, click Delete Account.
Go to the next screen and tap Delete My Account & Data. You'll an email notification to complete the deletion process.
Check your email and confirm the deletion of your Fitbit account
However, if you change your mind, you have up to seven days to recover your data. Just log in to your account, and you're good to go.
How to Delete Fitbit Account on the Website
Although most people use Fitbit on their smartphones, it's possible to delete your account via Fitbit's website.
Go to accounts.fitbit.com and log in to your account.
On the personal dashboard, click the gear icon at the top right corner of the page.
Click Settings from the dropdown menu.
Scroll to the bottom and tap Delete Account.
A popup window will appear; input your password and tap on Send Confirmation Email.
Go to your email and confirm the deletion of your Fitbit account to complete the process. You can recover your account within seven days after confirmation.
What Happens When You Delete Your Fitbit Account
After deleting your Fitbit account, your data will be permanently erased within 30 days from the time you confirmed the deletion request in your email. If you delete your account, you'll also lose any subscription you have, like Coach Premium.
Fitbit claims that it may take up to 90 days to remove all your personal information depending on the complexity and size of their backup systems. They may also keep some data for safety and legal reasons. Check on Fitbit's Privacy Policy for more information.
Can I Use My Fitbit Without an Account?
All Fitbit trackers need a compulsory Fitbit account. In the first stage of the setup, Fitbit needs to borrow the connectivity protocol and internet connection from an internet-enabled parent device.
You need the official Fitbit app to get started. The best thing about this process is that you don't necessarily need a smartphone. You can use a computer or a tablet.
Once you've completed the setup process, you can start using your device as you planned. It will record your data, store it, and sync it to your device once you're within range. The syncing is automatic, so no extra effort is required on your end.
However, automatic synchronization may not function if your device doesn't have a built-in GPS. So if you want to go down this road, ensure you have a Fitbit with built-in GPS.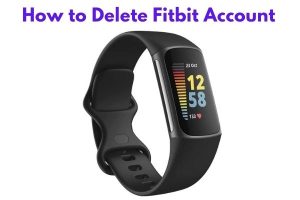 How to Erase Fitbit Data Without Deleting your Account
It is possible to erase the data in your tracker without deleting the entire account. Depending on the Fitbit model you own, you can either do a factory reset or remove the device from your Fitbit account. This will save you the trouble of setting up a new account to pair with a new model in the future.
Final Thoughts
Fitbit has made it easy for you to remove your account anytime you want. If you want to delete your Fitbit account, the methods discussed above will sort you out in no time.