Let's face it: Your Apple Watch wasn't cheap. And if you smack your watch into something and shatter it, repairing it would probably cost you a fortune. The good news is that your broken Apple Watch can be repaired, and the bad news is that it's quite expensive to get it back in shape.
This is where AppleCare comes in. In this article, I'll explain everything you need about AppleCare and why it's a smart choice.
What is AppleCare?
AppleCare is an added protection and service for the Apple Watch. It comes at an extra cost but provides unique customer service beyond the usual 90 days offered. It also covers hardware problems for three years and some accidental damages at a little or no cost.
What does AppleCare Cover for Apple Watch?
Battery, Charging Cable, and Power Adapter
If your Apple Watch holds less than 80% of its capacity, then you'll get a replacement if the device is under AppleCare. You'll either get a refurbished or new one.
Accidental Damage from Handling
If you damage your Apple Watch by hitting a wall or dropping, it's called Accidental Damage from Handling (ADH). When you take the watch for service, you get a Service Event, usually replacement or repair.
However, it has some limitations. The Service Event is not free, and you'll have to part with a deductible; $79 for Apple Watch Hermes or Edition and $69 for other editions. Another limitation is that you only have two Service Events with an active plan.
Apple Watch Express Replacement
This is the best thing about AppleCare+. If you have this cover, they'll give you a temporary replacement, and after your device is fixed, you swap. This will ensure that you'll never miss the benefits of the Apple Watch.
Related: Apple Watch 7 vs Whoop 4.0
Differences between AppleCare and AppleCare+
Although AppleCare and AppleCare+ sound like the same thing, they have some slight differences. As the name suggests, AppleCare+ is more advanced than AppleCare.
AppleCare offers 90 days of support for your Apple Watch and one year warranty on hardware. On the other hand, AppleCare+ extends the support and hardware warranty to three years and comes with lower costs for some repairs.
Should I get AppleCare+ for my Apple Watch?
It's pretty hard to find an Apple Watch repair shop anywhere apart from the Apple store. The Apple Watch has a tough design, so most users won't have problems. However, AppleCare+ promises peace of mind and enough value, so it's worth the purchase.
So if you're accident-prone or paranoid, or like the Express Replacement Service, AppleCare+ is for yours. But if you're extra careful with your Apple Watch and don't see any possibility of damage or failure, you can skip it.
AppleCare+ prices and coverage
For an extra fee, which depends on the model you choose, AppleCare+ for Apple Watch SE and Series 6 offers the following:
Two years free technical support
Two years limited hardware warranty
Two events of accidental damage, with a service fee of $69
The AppleCare+ for Series 6 (with stainless steel and aluminum case) costs an additional $79, while the AppleCare+ for SE comes at $49.
For an additional $149, AppleCare+ for Apple Watch Edition and Hermes provides:
Three-year free technical support
Three-year limited hardware warranty
Two events of accidental damage, with an extra $79 service fee
AppleCare+ Service Fee
If you use the two accidental damage incidents offered by AppleCare+, you'll be charged extra. Currently, the charge is:
$79 for Apple Watch Edition or Apple Watch Hermes
$69 for Apple Watch SE, Series 6, and Nike+
This is mainly because Hermes bands and ceramic casings are quite pricey to service.
Related: Apple Watch band warranty
FAQs
How Can I Buy AppleCare+ for Apple Watch?
When purchasing an Apple Watch from the Apple Store or an authorized reseller, you'll be asked if you want to buy the extended warranty. If you don't want the offer at the moment, you have 60 days to buy the plan. In this case, you need to visit the store so they can check if the watch is damaged. If it's in good condition, you'll be allowed to buy AppleCare.
Additionally, you can cancel AppleCare before it expires. You might be refunded if you paid upfront. But for monthly subscriptions, they will stop charging for the service.
Is AppleCare+ Only for US Customers?
No! Apple offers global coverage for the Apple Watch and other devices. However, the service options depend on the country you're in. Fortunately, AppleCare services are done by authorized techs using genuine Apple parts. However, ensure you read the agreement before buying any insurance or warranty.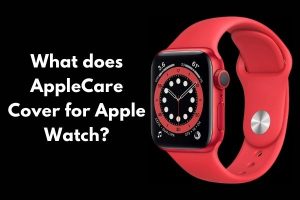 Parting Shot
Generally, AppleCare+ minimizes the cost and stress of replacement and accidental damage repairs and eliminates the expenses of repairing hardware failures. Although AppleCare is not essential, it is worth the peace of mind.