Why upgrade from WHOOP 3.0 to WHOOP 4.0? I will comprehensively answer this question in this WHOOP 3.0 vs 4.0 post…
While both fitness trackers are designed to track your sleep patterns, strain, and recovery, several differences between them may influence your decision. WHOOP 4.0 (released in 2021) offers several improvements over the previous generation WHOOP 3.0 (released in 2019).
Table of Contents
WHOOP 3.0 vs 4.0: Differences Between WHOOP 3.0 and 4.0
The following are features (hardware and software) that you will find on WHOOP 4.0 and not on WHOOP 3.0.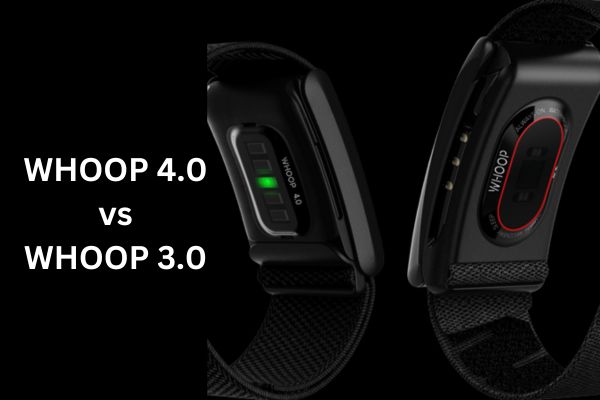 Even though the 4.0 is similar in design to its predecessor, it is 33% smaller in size. This makes it lighter and less obstructive.
WHOOP 4.0 boasts improved sensor technology with four times the number of photodiodes and five LEDs. This is for new metrics and increased data accuracy, compared to its predecessor, WHOOP 3.0.
Unlike WHOOP 3.0, WHOOP 4.0 can monitor blood oxygen levels (SpO2). The WHOOP 4.0 comes with a pulse oximeter that monitors blood oxygen levels from the wrist.
Another feature on the WHOOP 4.0 and not on the 3.0 is a skin temperature sensor. The skin temperature sensor provides you with additional information regarding your body's readiness.
The WHOOP 4.0 comes with an Upgraded Sleep Coach. With sleep coach, WHOOP 4.0 learns about your sleep patterns and then gives you personalized insights on how much sleep you need and when to go to bed.
The WHOOP 4.0 haptic alerts feature works with Sleep Coach to wake you up when you have slept enough. The haptic alerts wake you up in a less jarring way than an audio alarm.
WHOOP 4.0 is powered with Sila's silicon anode battery materials. The WHOOP 4.0's battery is smaller and delivers 17% higher energy density than the 3.0.
WHOOP 4.0 battery pack is IP68 dustproof and water-resistant (up to 1 meter for 2 hrs). WHOOP 3.0 battery pack is not water-resistant.
The 4.0 also includes a "strain coach" feature that provides personalized recommendations for optimizing your workouts based on your sleep, recovery, and heart rate data. Avoid overtraining and undertraining.
How to upgrade from WHOOP 3.0 to 4.0
When it comes to upgrading from WHOOP 3.0 to 4.0, we'll look at three different groups of users – based on membership plans.
New members: A free WHOOP 4.0 is available for all first-time WHOOP users. All you need is to join WHOOP and sign up for membership and you'll receive a free WHOOP 4.0 strap.
Existing monthly member: To upgrade and get a free WHOOP 4.0, you need to commit a minimum of 6 future months past your commitment.
Annual members: As an annual member, you automatically qualify to get a free WHOOP 4.0 strap. All you need to do is order the new hardware either from the website or from the app.
Members with a 6-, 12- or 24-month prepaid membership who have less than 6 months left before their next Billing Date: To receive a WHOOP 4.0 upgrade, you need to extend your membership by at least 6 months.
What do I do with my WHOOP 3.0 strap after upgrading?
Use the UPCYCLE IT Program. With this program, you gift the WHOOP strap to a friend or family member. If they join WHOOP after you have gifted them the 3.0 strap, you get 1 free month of membership, and they get 2 free months of membership.
If you don't want to use the UPCYLE IT program, you're free to recycle the strap plus the battery. Check local laws on responsible recycling.
FAQs
Do WHOOP 3.0 bands fit 4.0?
Yes, WHOOP 3.0 bands are compatible with the WHOOP 4.0 strap. While there are some minor differences between the bands, the WHOOP 3.0 bands will still work with the WHOOP 4.0 strap under some tension. So, if already own WHOOP 3.0 bands you can use them with the WHOOP 4.0 if you choose to upgrade.
Conclusion
Whether or not to upgrade from WHOOP 3.0 to 4.0 depends on your preferences and needs. While the WHOOP 4.0 offers several improvements over the 3.0, such as a smaller size, enhanced sensor configuration, and new features like SpO2 and Sleep Coach, the 3.0 is still a capable device that provides accurate data on sleep, strain, and recovery.
If you are satisfied with the performance of your WHOOP 3.0 and do not feel the need for the additional features offered by the 4.0, then you don't need to upgrade.
If you are looking for the latest and most advanced technology, or if you are interested in the new features offered by WHOOP 4.0, upgrading is a good option.
In my opinion, an upgrade from WHOOP 3.0 to 4.0 would be a great move.