Apple Watches are brilliant fitness trackers for a variety of reasons. An important question though is – Does Apple Watch track steps?
In this post, I give you a comprehensive answer to this question and give you tips on how to improve the accuracy of your Apple Watch when it comes to tracking steps…
Table of Contents
So, Does Apple Watch Track Steps?
The answer is yes, the Apple Watch has the capability to track your steps. The Apple Watch has an inbuilt pedometer that measures the number of steps you take throughout the day.
Apple's step-counting feature is a great choice for fitness enthusiasts who want to monitor their daily activities closely. However, the step count on Apple Watch is not as straightforward as it seems.
Here's a guide to help get the best out of the Apple Watch's step count feature.
Is Apple Watch Good for Counting Steps?
Yes. Apple Watch comes with a pedometer feature that can be easily accessed directly from your wrist at any time. If you want to see your step count and the distance traveled while wearing your Apple Watch, the pedometer feature on the Apple Watch will show you the total steps, total distance, and calories used in that activity.
How Does Apple Watch Count Steps?
Apart from counting the calories burned and tracking workouts, Apple Watch is great at counting steps. If you put on your Apple Watch all day, it's a great choice for your step count than your iPhone.
When you pair your Apple Watch with your iPhone, it will automatically track your steps any time you're wearing it. Here's how to track steps on your Apple Watch.
How to Track Steps with Apple Watch
Open the Activity app on your Apple Watch.
Scroll down or swipe down using the Digital Crown.
At the bottom, you'll see your distance covered, daily steps, and steps climbed.
Scroll down further and click Weekly Summary for more data.
Related: Whoop Band vs Apple Watch
How to Check Your Steps on iPhone
When you pair your Apple Watch with your iPhone, you can easily check the steps you've taken using the iOS Activity app. Here's how to track your steps using your iPhone:
Go to the Fitness app on your iPhone ( called Activity app in iOS 14.1 or earlier)
Click the Summary tab or Trends tab in iOS 14.1 or earlier
Scroll down to check your Trends with Distance run/walked and more
Click Show More next to Trends to view more data
The Trends show whether your Exercise, Move, and Distance activity is on the downswing or upswing. Click one of them to view daily, monthly, and yearly data.
However, the data between your iPhone and Apple Watch may not be exactly in sync. But after some minutes of fresh activity, your Apple Watch will match up with your iPhone.
Related: What is the Best Apple Watch Alternative?
How to View Your Weekly Summary of Steps Walked
If you want to view how many steps you've walked in the past week. Here is a quick way to view the weekly summary on your Apple Watch.
Click the Digital Crown on your Apple Watch, then tap Activity.
Force Touch the Activity Rings.
Choose Weekly Summary.
Swipe down to see the total steps taken for that week. You will also view the distance traveled and calories burned.
Can Apple Watch notify you when you hit 10000 steps?
No. Apple Watch doesn't have a notification for distance in kilometers or miles, time, or calories burnt. However, notifications are available via the workout app.
Does Apple Watch track steps accurately?
Being able to view the steps you've walked is a great idea. However, if you're a fitness enthusiast, you'll want accurate data. The Apple Watch measures distance in every aspect. Apple Watch requires you to provide the activity app will basic health information about you. This is how the Apple Watch converts basic information like distance, steps, and calories burned.
Apple uses your gender, age, height, and weight to determine your potential stride length and calorie burn. This is how the Apple Watch step counter calculates the distance you've walked. Although the watch is reasonably accurate, there are other trackers that are more accurate in step counting.
Related: Alternative Ways to Wear Apple Watch
How to Improve the Accuracy of Your Apple Watch
Are you satisfied with the accuracy of your Apple Watch? If not, you can always calibrate it. Ensure you choose the right activity while calibrating your Apple Watch. You also need to set a goal before you start your activity for about 20 minutes.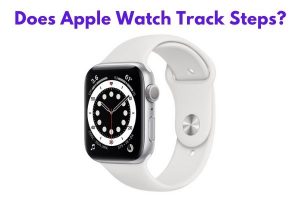 If you work out at different speeds, you can calibrate at each of your chosen speeds for improved accuracy. The quick calibration enhances the accuracy with which the watch determines how far you're walking or running. This calibration also improves the accuracy of exercise calculations and calorie burning.
Does the Apple Watch count steps without a phone?
Apple Watch comes with health, and fitness features, including a built-in step counter, called a pedometer. Although most users assume that the pedometer can only be accessed through the accompanying iPhone, the Apple Watch has an Activity app that you can use to check the step counts.
Final Thoughts
The Apple Watch is a fantastic device for anyone who wants to keep track of their step count. However, make you know how to use the step counter properly in order to get the best out of your Apple Watch.
I hope my post has fully answered the question: Does the Apple Watch track steps?