Fitbit is a small device that can be easily misplaced. Sometimes, it's probably on the bathroom sink (where you left it after a shower) or sitting in its charger. However, if you can't locate it in all the usual locations, there are some effective ways to find a lost Fitbit.
Table of Contents
Here are some tips on how to locate a lost Fitbit.
Find a Lost Fitbit Using Bluetooth Locator App
Here are some crucial tips to help you find a lost Fitbit using the Bluetooth locator app:
If you had synced your Fitbit using the iPhone or Android, check the last time your gadget synced data with the Fitbit. This will help you understand when the device got lost.
If you are an iPhone user, you can use LightBlue explorer to connect to all the nearby devices. Once connected, you'll have a detailed view of all the gadget's profiles and get an idea of how close you are to the Fitbit.
For Android Users, Bluetooth Finder will help you locate and find your Fitbit using the received signal strength indication.
Take your gadget along the path you've used since you lost your Fitbit. The most common places to look for your Fitbit include the car, bathroom, or in the piles of laundry.
The app will notify you when you get closer to your Fitbit. However, it can be challenging to trace a Bluetooth signal near a mirror or anything metallic.
Related: Best Fitbit for Women
Find My Fitbit Charge 2 Using Tile
Fitbit and Tile have teamed up to ensure you don't lose your Fitbit Inspire 2. If you're tired of losing your sleep and activity tracker, here's everything you need to know about Tile's finding technology.
What is Tile?
Tile is a gadget-finding strategy that connects people to their devices and to a global network of finding power. The free mobile app and Tile's Bluetooth technology help you find your devices nearby or far away by creating a connection to Tile's Global Network of users.
This service allows you to connect via Bluetooth using a smartphone app and locate the trackers on demand. Additionally, Tile develops Bluetooth-enabled gadgets that you can easily place in your wallet or attach to your keys.
If you're a new or existing Inspire 2 user, you'll need to update your device software in the Fitbit app and download the Tile mobile app to activate your gadget.
Related: Best Fitbit for Men
How to use Tile to find a lost Fitbit Charge 2
If you misplace your Fitbit Inspire 2 somewhere nearby, you'll need to open the Tile mobile app and click the "Find" button. Your device will start vibrating, but it must be within Bluetooth range and have sufficient battery life. Alternatively, you can use Proximity. Meter in the Tile app to take you to the Fitbit visually.
If your Inspire 2 is out of Bluetooth range, no worries- use the map in your Tile app to locate the last place you had it with you. If you don't find it in the last place, you can use Tile's Global Network of Users to help you locate it.
The best thing about the Tile is that you can also use it to track your misplaced phone. All you need is to go to the Tile app on your Fitbit Inspire 2 and click on "Find my phone." If the Fitbit is connected to your phone via Bluetooth and within range, the phone will start ringing and vibrating.
How to Activate the Tile App
To locate Fitbit, start by downloading the latest version of the Tile app. Ensure you download the Fitbit app before activating the Tile, and start the activation process using these steps:
Launch the Fitbit app, follow the instructions; ensure that the Inspire 2 is next to your smartphone.
Go to the Fitbit app and click the Today tab, then your profile picture, and then your device name.
If needed, click Update Fitbit tracker and complete the update.
Go to the Inspire 2 screen, scroll down and find Tile.
Click the Tile icon.
When the Inspire 2 appears, tap the Tile app on your phone to set up.
If the activation is not successful, you can restart your phone and the Inspire 2 before starting the process again. To restart your Fitbit, go to the settings and tap Reboot Device.
Can I Ring Fitbit Inspire 2 With Other Devices?
The Fitbit Inspire 2 can only maintain a single connection at a time. It connects with your primary gadget when the gadget is within range. Therefore, you cannot find your Inspire 2 from additional phones and tables unless the primary device is out of Bluetooth range.
FAQs
Can I Find My Fitbit if it's Off?
No, you cannot find your Fitbit if it is off or has run out of battery power. You will have to look for it manually.
Is There an App That Can Show Me Where the Fitbit is on the Map?
Unfortunately, Fitbit lacks a GPS feature. So it's not possible to track it using a map app.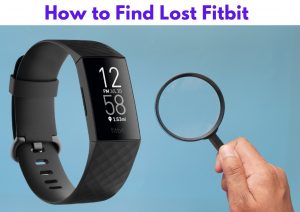 Conclusion
Fitbit has made steps to ensure you never miss a move because you've misplaced your Fitbit device. If you've lost your Fitbit, the methods discussed above will help you get back on track in no time.