Using technology to try and improve your health and fitness is becoming more and more common nowadays. Fitbit gadgets sync with your smartphone's app to record your activity and health data.
Thankfully, you don't have to have your smartphone with you to get the best out of a Fitbit! You can easily monitor your progress on your PC, thanks to the Fitbit dongle.
So, What is a Fitbit Dongle?
A Fitbit dongle is a small USB device that comes with most Fitbit trackers to allow you to monitor your progress from a PC. The Fitbit dongle adds Bluetooth capabilities to your desktop computer allowing you to sync your Fitbit with your PC.
Related: Best Fitbit for Women
Do I Need the Fitbit Dongle?
If you only sync your Fitbit with a smartphone, don't invest in a Fitbit dongle. Although most laptop computers can connect with your Fitbit via Bluetooth, the Bluetooth signals can sometimes be weak or problematic… this creates a need for you to invest in a Fitbit dongle.
What Do You Use Fitbit Dongle For?
A Fitbit dongle is designed to allow Bluetooth connectivity through any PC. It enables your tracker to transfer data to your computer, so you can monitor your progress like you do when using your tablet or smartphone.
NB: Bluetooth connectivity usually drains your Fitbit battery fast.
Related: Best Fitbit for Men
Which Trackers Don't Come With a Dongle?
Since some trackers are optimized to be used with smartphones, they don't come with dongles. These Fitbit devices include:
Fitbit Alta
Fitbit Blaze
Fitbit Charge 2
Fitbit Flex 2
However, if you need a dongle, you can order one from the Fitbit store. Additionally, there are some instances where you can use a computer without a dongle. But you must meet the following conditions:
Your computer is running Windows 10
You've installed the Fitbit app for Windows 10
The cradle is plugged into a USB port on the PC
Blaze is locked into the charging cradle
How do I use the Fitbit dongle?
Plug the USB dongle into your computer and place your tracker nearby to ally pairing. You can now connect to your Fitbit allowing you to sync your Fitbit with your PC.
How Often Should I Sync to Fitbit Connect
If the Fitbit connect is set on your PC, you can connect your Fitbit tracker any minute. If you've connected your Fitbit dongle to the computer, and the fitness tracker is within the range, data will be transferred to your computer after every 15 minutes.
If you want to connect your Fitbit Blaze to your PC, connect the tracker to a charging cable, and insert the other end of the cable into the PC's USB port. To check if your device is synced to the computer, log in to the Fitbit account and tap the gear icon on the dashboard. You'll see when your tracker synced last.
How to View Data on Fitbit Connect?
If you want to check your exercise and health data, go to the Fitbit website and log in. In the dashboard, you can see your stats and share your data with friends. You also have access to your sleep data, which is available in a simple chart with an option for detailed information.
However, if you want to update yourself on the go, download the Fitbit app on your smartphone and connect it to the Fitbit device.
How to Get the Most Out of Your Fitbit
Now that you know how to use Fitbit dongle to improve your data transfers, here are some ways you can get the best out of your tracker:
Add Fitbit Friends: When you include friends via the Fitbit app, you'll be able to track the progress of your friends and family and send them encouragement quotes when they're trying to hit their goals.
Take on a Challenge: Whether you have a personal challenge or a target to hit with your friends, a Fitbit challenge will help you stick to your fitness goals and monitor your progress effectively.
Invest in Fitbit Premium: Since you know what Fitbit has to offer, you can take your fitness goals to the next level by subscribing to the Fitbit Premium. Joining this service will give you access to more challenges and workouts and give more detailed wellness and health reports.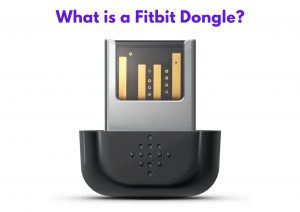 FAQs
Can You Sync a Fitbit Without a Dongle?
Yes, you can. However, you need a computer that supports Bluetooth connections and check the version of Bluetooth it supports. If it's compatible with Bluetooth LE 4.0, you don't need a dongle.
Conclusion
Now that the Fitbit dongle will help you get more connected, it's time to take your health and fitness tracking to the next level. Pick your favorite Fitbit tracker and enjoy your fitness journey.