A smartwatch with earbuds is an impressive tech that intrigues most athletes and youthful folks. An earbud is among the best add-ons a smartwatch can have. Although a smartwatch with earbuds may not fulfill all your requests of a wearable, it allows you to listen to music wireless and even make phone calls.
Worried about the sound quality? Honestly, most smartwatches are now equipped with a dedicated smart audio chipset that guarantees the best audio experience without compromising health and fitness features.
Are you looking for a smartwatch with earbuds support but don't know what to look for? I've got you covered. In this article, I've compiled the list of the best smartwatches with earbuds along with a handy guide to help you make an informed decision.
Benefits of a Smartwatch with Earbuds
Receive Incoming Calls
There are some situations in which you cannot use your phone always. Therefore, you need a convenient device to keep you connected with your loved ones. One of the main benefits of having earbuds in a smartwatch is to receive calls without taking your phone out of your pocket. In fact, you can attend to your chores without fear of missing out on a call.
Listen to your Favorite Tunes
A smartwatch with an earbuds combo allows you to listen to your favorite tunes on the go. Previously, smartwatches lacked this feature. However, the idea of smartwatches with headphone jacks is still an unfulfilled fantasy. Therefore, one had to buy Bluetooth earbuds separately.
Now with the built-in earbuds, you don't have to buy one separately. With these earbuds, you can control and play music simultaneously with ease.
Touch Sensitivity
Most smartwatches with earbuds are sensitive to touch. This means you can control the music playback with a few taps. These smartwatches have optical sensors to detect touch easily and do several tasks, including receiving and rejecting calls, adjusting the volume, skipping songs, and activating the phone's assistant.
These smartwatches are super convenient since you don't need to use your phone or smartwatch to execute these kinds of stuff.
Cord-free Experience
Nothing beats the feeling of enjoying your favorite tunes cord-free. Using headphones on your smartwatch can be a mess to carry and quite inconvenient. Additionally, you have to keep the length of the wire in mind when stretching your hand. Therefore, wireless earbuds are super convenient.
Features of Smartwatches with Built-in Earbuds
Health Monitoring Functionality
Most smartwatches with earbuds have built-in fitness trackers. These smartwatches track and monitor crucial metrics such as calories burned, heart rate, and pulse rate, among others. Additionally, these devices help you monitor your sleep patterns. These impressive features help you to lead a healthy and active lifestyle.
Smart Notifications
Setting up a smartwatch to be compatible with your iOS and Android devices is very easy. Smartwatches are fully compatible with Android and iOS phones, meaning you'll receive instant notifications on your wrist.
Effective Music Control
With these wireless earbuds, you can make and receive calls and listen to your favorite tunes. If you want to adjust the sound volume, you just need to touch the surface of your earbuds and enjoy.
Bluetooth Compatibility
The Bluetooth earbuds that come with these smartwatches are completely wireless and ergonomically designed. They also have excellent sound quality. They are equipped with a noise cancellation feature that eliminates any unwanted sound near you. These earbuds will allow you to enjoy your favorite tunes without interruption and help your mind relax.
Water-Resistant Features
A smartwatch with an IPX waterproof specification is ideal for outdoor enthusiasts who like different sports. Most of these models have earbuds that are great at resisting tear and wear. Additionally, they have water-resistant features that are ideal for guys during snowboarding or skiing adventures.
Smartwatches with Earbuds Buying Guide
Before choosing the best smartwatch with earbuds, there are some factors you need to consider. Every smartwatch with earbuds has unique qualities that make it more or less suitable for various activities. Here are some factors to keep in mind when buying the best smartwatch with earbuds.
Sound Quality
When choosing a smartwatch with earbuds, sound quality should be your priority. The earbuds should give high-quality audio while minimizing power usage. Additionally, it should have a specialized innovative audio chipset for an excellent audio experience.
Call Receiving Capability
A smartwatch with earbuds should allow you to pick up calls without pulling your smartphone out of your pocket. These smartwatches should be able to receive calls and play your favorite songs. Ensure that your favorite smartwatch has these features.
Touch Sensitivity
Your favorite smartwatch should be highly sensitive to the touch. It should allow you to regulate the music playback with just a few taps. It should also have optical sensors that detect touch to execute certain tasks, including answering or rejecting calls and switching between songs.
Battery Life
Battery life is the main complaint with smartwatches. There are a handful of them in the market that can last for more than 24 hours. Most top-notch smartwatches come with AMOLED displays and bright LCD screens, which tend to overwhelm the battery. Therefore, you should look for a smartwatch that comes equipped with a long-lasting battery.
Look and Lifestyle
A smartwatch is not just an ordinary device; it's part of your wardrobe. Your favorite smartwatch should blend well with your outfit, and you should like its appearance. Additionally, smartwatches are available in various colors, sizes, shapes, and materials, sometimes in rugged or refined options.
Durability
You don't want to invest your hard-earned cash in a smartwatch that will break after a few months of use. Therefore, go for a smartwatch made from premium materials and one that can withstand continuous use and abuse.
Price
Most high-quality smart devices have a higher price tag, and it's the case for smartwatches with earbuds as well. It's always wise to purchase a high-quality smartwatch since it will last longer and give accurate data.
Best Smartwatches with Earbuds Reviews
Smart Watch with Bluetooth Earbuds Wireless Earphone
Click Here to See Current Price on Amazon
If you're looking for a smartwatch with earbuds tailored to suit your work and entertainment, this is a great choice. This smartwatch comes with tons of tracking features and the capability to listen to your favorite tunes wirelessly. The excellent combination of a wireless headset and microphone makes it ideal for adventures, outdoor travel, and gym workouts. It also has multi-sport modes and tracks your exercise data like step counter, exercise data, calorie burned, and distance traveled.
Features
Built-in 400mAh battery
Silicone watchband
USB Type-C charger
Pros
Easy to use
Effective heart rate monitor
Tracks several sports
Cons
Samsung Galaxy Smartwatch (46mm)
Click Here to See Current Price on Amazon
The Samsung Galaxy is a lightweight smartwatch that suits every mode and fashion. It comes with an AMOLED display that gives clear visibility at night and under the sun. This smartwatch comes with Bluetooth true wireless earbuds that work perfectly with your smartwatch or phone. You will definitely fall for this piece of technology.
With impressive AKG sound, the Galaxy earbuds deliver music, calls, and podcasts in a balanced and excellent dynamic range with outstanding accuracy. This smartwatch is a great way to stay motivated when working out, walking, or doing your chores. What's more, the interchangeable bands are a great way to keep up with your wearing style.
Features
46mm size
Customizable watch face
AMOLED display
Pros
Impressive sounds
Simple and stylish design
Excellent noise cancellation technology
Exceptional accuracy
Cons
It can be a bit hard to navigate
DSMART Fitness & Health Smart Watch
Click Here to See Current Price on Amazon
If you want a sleek smartwatch that doubles as a fitness tracker and earphone, the DSMART Fitness & Health Smart Watch is a good bet. This smartwatch comes with a fitness tracker, Bluetooth Wireless Earphones, and a heart rate monitor all in one pack. This amazing piece of tech is designed to fit on your wrist, with the wireless headphones designed to keep you entertained as your work out. Additionally, you won't be disappointed by the 12mm speaker that offers excellent sound quality and 20 sports modes to keep you active at all times.
Features
20 sports modes
Touchscreen interface
Pros
High-quality earphones
Easy to use
Long-lasting battery
Cons
Fitness Activity Tracker with Bluetooth Wireless Earbud
Click Here to See Current Price on Amazon
This smartwatch comes with a perfect combination of a fitness tracker, Bluetooth headphones, heart rate, sleep, and blood pressure monitor. With this smartwatch, you can easily connect to your smartphone to make calls and enjoy your favorite songs while exercising. The Bluetooth earbud has excellent noise reduction technology, a built-in 12mm speaker, and a professional music chip that gives an impressive HD voice experience.
Features
Built-in 12mm speaker
6 workout modes
Remote camera
Pros
Intelligent sleep monitor
Easy to sync with your devices
Accurate heart rate monitor
Cons
Wrist size may be too large for some guys
Aipower Smart Watch Wearbuds True Wireless Earbuds
Click Here to See Current Price on Amazon
The Aipower Smart Watch is a stylish device that will meet all your music needs. This smartwatch doesn't go wrong with impressive sound quality. The earbuds have noise-cancellation features and provide premium sound without distortion. It also has a silicone finish that makes it comfortable to wear. These earbuds come with a soft-touch control system that allows you to answer or reject calls, play or pause music, and use a virtual assistant. It's also equipped with a sleep tracker, calorie counter, heart rate monitor, and many more.
Features
Bluetooth 5.0
24/7 heart rate monitor
Backlit touchscreen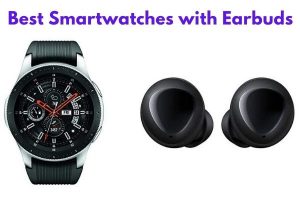 Pros
Easy to use
Smooth touch controls
Affordable
Earbuds are comfortable to wear
Cons
Final Thoughts
Now you have the list of the best smartwatches with earbuds. I hope you'll pick one that will keep you motivated in your sports, work, driving, and other outdoor activities. Ensure you choose one that suits your needs and falls within your budget. Good luck!