With fitness trackers like Inspire HR, Fitbit has been the king of fitness tracking for a long time. But now, several smartwatches are looking to take the crown, such as the Xiaomi Mi Band 5.
Unless you're looking for more advanced features like running dynamics stats, music storage, or built-in GPS, the Xiaomi Mi Band 5 and Fitbit Inspire HR should be at the top of your priority list. Overall, these fitness trackers are excellent options for anyone who needs to track their daily activities efficiently.
So, should you go for the more refined Inspire HR or, the less expensive Mi Band 5? Here's a detailed comparison between Xiaomi Mi Band 5 vs. Fitbit Inspire HR.
Table of Contents
Appearance, Design, and Comfort
Both devices have impressive designs, with Mi Band 5 having a curvier look than the Mi Band 4, while the Inspire HR comes with a skinnier-looking band that blends well with the wrist.
Both have touchscreen displays, but MI Band 5's display is miles better. The Mi Band 5 uses an AMOLED color touchscreen display, while the Inspire HR has an RGB OLED display. The Mi Band 5 has a great display compared to Inspire HR because it manages to be brighter and can accommodate more information.
When it comes to color and size options, the Mi Band 5 has eight colors, and it comes in one size only but has standard and NFC versions. On the other hand, Inspire HR comes in lilac, black, and white color options, and you can choose a small or large size option.
Activity and Workout Tracking
Fitbit Inspire HR excels in exercise tracking and has 15 activity types, ranging from swimming to Pilates to Kickboxing, although you can only use six at any one time. The Xiaomi Mi Band 5 comes with dedicated modes for cycling, running, walking, swimming, and a general without mode.
Both the Mi Band 5 and Inspire HR can use your smartphone's GPS to track activities like cycling and running. However, the Mi Band 5 is more reliable and offers detailed data.
Calorie Tracking
Both fitness trackers count how many calories you've burned. This is quite useful if you're on a training diet or trying to shed some weight. Additionally, it can help to boost your motivation.
Sleep Tracking
The Inspire Hr and Mi Band 5 are both impressive sleep trackers. They are capable of tracking deep, light sleep and overall time awake throughout the night. The Inspire HR will also provide data for REM sleep.
Both fitness trackers will show you a detailed sleep score based on your sleep quality and compare your data to other users of the same gender and age.
Heart rate monitoring
These fitness trackers have heart rate monitors, which are excellent additions to these devices. In Mi band 5, you'll get guided breathing exercises and the ability to detect new PAI fitness scores and abnormalities in heart rate. The PAI fitness scores are meant to rate your weekly activity based on how your heart is pumping.
Inspire HR's heart rate monitor packs impressive capabilities too. You'll be able to track your heart rate over time, have guided breathing exercises, and view heart rate zones. Generally, Inspire HR's heart rate sensor is very accurate, while the Mi Band 5's sensor excels in steady workouts and continuous monitoring.
Water-resistance / Waterproof
The fitness trackers have similar water resistance, both claiming the same protection of up to 50 meters. You can take both of them for a dip and also offer swim tracking too.
Integrations / Compatibilities
Both the Mi Band 5 and Inspire HR are compatible with Android and iOS devices and sync all of your data wirelessly without the need for cables. Inspire HR is compatible with Windows devices, but Mi Band 5 is not.
Battery
Both trackers have a similarity in battery and charging, but a negative one. They have small and terrible charging cables that feel cheap. On the positive side, these trackers have long-lasting on a single charge. Mi Band 5 can go for up to 20 days, while Inspire HR can go for up to 5 days.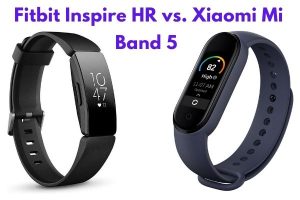 Cost / Pricing
The Xiaomi Mi Band 5 costs $33, while the Fitbit Inspire HR goes for $80. This makes Mi Band 5 a great choice for anyone operating on a budget and who wants a feature-filled device.
FAQs
Does Mi Band 5 have ECG?
Yes. Mi Band 5 comes with both an ECG and SpO2 monitor, which help keep your blood oxygen levels in check.
Does Mi Band 5 have a speaker?
The Mi Band 5 has a front-firing woofer and supports the DTS audio codec for an impressive sound experience.
Final Thoughts
As mentioned earlier, Xiaomi Mi Band 5 and Fitbit Inspire HR are both accurate and fantastic fitness trackers to buy. However, if you want a great screen, more smart features, and long-lasting battery life, all at an affordable price, Xiaomi Mi Band 5 is a great choice. If you want to enjoy the benefits of a Fitbit tracker, Inspire HR is worth the price tag.