Tracking our health and fitness has become a common trend in the recent past, with most fitness enthusiasts going for the latest smartwatches in the market. Amazfit GTS 3 and Apple Watch Series 7 are among the most reliable fitness and health tracking devices available out there. Although Apple has dominated this market, other smartwatch brands like Amazfit have started churning out the famous Apple.
In this article, I'll unpack the main differences between Amazfit GTS 3 and Apple Watch Series 7 and show you which one is a better fit.
Appearance, Design, and Comfort
The Amazfit GTS 3 has a 1.75″ AMOLED display with 450×390 resolution and optimized frames and comes in a boxy design. It is equipped with an aluminum body with silicone straps that makes it super comfortable and durable. It also has crown-shaped button functions as a scroll wheel for scrolling through the menu. If you need a slim and comfortable smartwatch, Amazfit GTS 3 is a great choice.
On the other hand, the Apple Series 7 has one notable improvement from its predecessor: a larger screen. It comes in 41mm and 45mm sizes and feels light and slim on your wrist. It has a bright Always-on display with a thick, robust, crack-resistant, and IP6X dustproof rating. Additionally, it's available in five colors: green, blue, midnight, red, and starlight.
Activity and Workout Tracking
The Apple Watch is well-known for its impressive activity tracking, with the three rings system serving as a motivation to keep you moving. This smartwatch has several built-in GPS, fitness apps, and music apps and collects important health metrics like fall detection. It monitors your activities using the heart rate sensor and accelerometer. The best thing about this smartwatch is that you can share your exercise goals with friends to challenge them.
Conversely, the Amazfit GTS 3 has 150+ sports modes, including outdoor walking, indoor walking, pool swimming, outdoor cycling, and treadmills, among others. It starts tracking your activities automatically once you've started working out. It uses a heart rate sensor and other data to compute your workout data, including average heart rate, calories burned, and more. Additionally, the Amazfit GTS 3 is very accurate when it comes to step-tracking.
Calorie Tracking
Both the Amazfit GTS 3 and Apple Watch Series 7 help you track the calories burned. The Apple Watch Series 7 keeps track of the calories burned and shows your progress compared to your daily goal. Although it tracks and records the calorie metrics, you need to use your iPhone to view detailed calorie data. Amazfit's calorie tracking is not as accurate as the Apple Watch Series 7.
Sleep Tracking
The Apple Watch Series 7 is equipped with all the necessary hardware to track your sleep patterns. With this smartwatch, you can choose to track your sleep manually or set the sleep auto-detection. On the other hand, the Amazfit GTS 3 is a mid-range smartwatch that supports daytime sleep tracking and provides extensive sleep data. This watch also detects the exact sleep and wake-up time.
Heart rate monitoring
These two devices are an easy-to-use health partner for every fitness enthusiast. The Apple Watch Series 7 has an effective heart rate monitor that can detect your resting, current, and walking heart rates and allow you to compare them. The Amazfit GTS 3 fitness tracker also comes with an accurate heart rate monitor that displays your heart rate all day, even when swimming. It's equipped with alerts for abnormally low or high heart rates and tracking heart rate zones to help you enhance your workouts.
Water-resistance / Waterproof
The Amazfit GTS 3 comes with a water resistance of 5 ATM, while the Apple Watch Series 7 is waterproof for up to 50 meters. This means they can handle shallow-water activities like swimming.
Battery
Despite the larger screen, the Apple Watch Series 7 has a battery life of 18 hours and charges 33% faster than its predecessor. It can charge from 0% to 80% in 45 minutes, and eight minutes are enough to gather sufficient juice for eight hours of sleep monitoring.
On the other hand, Amazfit claims the Amazfit GTS 3 can last for up to 20 days on a single charge if you turn on the battery saver. It can also offer over 12 days of battery life with normal usage.
Cost/Pricing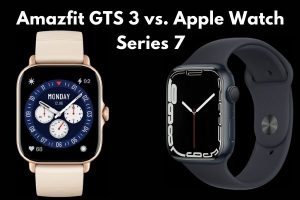 The Amazfit GTS 3 costs $399 for the 41mm model and $429 for the 45mm model. If you want cellular support which allows your watch to work without the iPhone, you'll need an extra $499 for the 41mm and $529 for the 45mm size. The Amazfit GTS 3 costs $179.99. So, the Apple Watch 7 is more expensive.
FAQ
Is Amazfit Better than Apple Watch?
Although the Apple Watch has more premium products and experience, the Amazfit is significantly cheaper and provides a similar experience. However, if you're looking for the best smartwatch and experience, the Apple Watch is a good bet.
Final Thoughts
Both the Amazfit GTS 3 and Apple Watch Series 6 are great devices to help you achieve your fitness goals.  However, the device you choose depends on your budget and personal preferences.