Losing your Whoop 4.0 is a frustrating experience. The question is – What do I do if I lost my Whoop strap? In this post, I'll cover what you are supposed to do if you've lost your Whoop 4.0 Strap…
Your Whoop strap is a small device, which means it's easy to lose. Most of the time, it's probably on the bathroom sink where you left it after a shower or sitting in its charger.
Table of Contents
What is Whoop?
A Whoop Strap is a fitness tracker that stretches beyond the usual fitness tracking. It is also designed to help track your recovery based on your physiological makeup. This helps you plan your next workouts and recoveries through the available data.
What to Do If I Lost My Whoop Strap?
The following are the steps you should take should you lose your Whoop 4.0 strap:
Check all possible locations where you think you may have left it: To find your lost Whoop, you can check in your handbags, backpack, or gym bag. You should also check in all the rooms you visit in the house or at your friends' place.
Contact Whoop Support for a replacement strap: Even though Whoop's Limited warranty does not cover a lost Whoop, you can still contact support to get a Non-Warranty Replacement for $120. To request a Non-Warranty Replacement, log into your Whoop membership account and go to the Lost Strap page. From here you will enter the shipping address and the Strap will be shipped after a restocking fee has been charged on the payment method on file.
Purchase a replacement strap from Whoop's website: Instead of contacting Whoop's support for a Non-Warranty Replacement, you can go ahead and buy a new one from Whoop's website.
How Does the Whoop Strap Work?
You might be familiar with other fitness trackers or apps, which allow you to measure things and record activities like heart rate and cadence during workouts. If you want to monitor your progress, you check the data in the device or app.
With Whoop Strap, you get an easy-to-use app that records your data 24/7 and categorizes it into three main areas: recovery, strain, and sleep. The reasoning behind this is pretty easy: your previous tracked workouts aren't the only determinants of your readiness to train the next day.
Related: Apple Watch vs Whoop 4.0
Does the Whoop warranty cover a lost Whoop band?
If you lose your Whoop Strap, you can request replacing the Strap outside the Limited Warranty ("Non-Warranty Replacement") for $120. If you want to request a Non-Warranty Replacement, you can log into your Account page and scroll down to the Lost Strap page in the Membership section.
However, the limited warranty does not cover lost Whoop Straps. To request a warranty replacement, you need to contact Whoop support.
How much does it cost to replace a lost Whoop Strap?
The out-of-warranty Whoop replacement costs $120 for the Strap and sensor. The replacement also includes a new battery pack. If you to replace the Battery Pack only out of warranty, you need to pay $30.
Related: Best Whoop Competitors
Can you track your WHOOP?
Although the Whoop strap doesn't have a built-in GPS, you can easily track your previous routes using the Strain Coach and your smartphone. If you want to track your route, choose an activity of choice, ensure "Track Route" is toggled on, and start the activity. Ensure you have your phone with you for the duration of the activity. You need to enable the GS feature on your phone.
You can view your distance and route during your activity. However, the route data may be recorded incorrectly if your phone records coordinates that deviate from your actual path or loses a GPS connection. The best way to get accurate data is to establish a strong GPS signal on your phone.
FAQs
Does the Whoop strap have GPS?
No, the Whoop Strap is not equipped with a GPS. All workouts such as cycling and running depend on the Whoop app that uses the GPS capabilities of your smartphone.
Is Whoop Worth $30 a Month?
Whoop is specially designed to help you recover better, improve your workout performance, and feel motivated about your fitness and health habits. Therefore, a Whoop 4.0 Strap is worth the cost if you want to take your health and fitness to the next level.
How Do I Change My Whoop Strap?
If you want to change your Whoop, just request a non-warranty replacement through Whoop support. Whoop will send you an invoice for the replacement strap. After payment, you will receive a confirmation email from Whoop.
Is Whoop a Good Gift?
This is a great gift for anyone who wants to start working out and professional athletes training for a competition or race. Apart from fitness and health tracking, the Whoop strap is a great option for people with stressful and strenuous jobs.
Can I Buy a Whoop Strap Without a Membership?
How Much Does a Whoop Strap Cost?
The Whoop Strap is free, but you must be a Whoop member to enjoy the benefits. It costs $30 per month or $18 per month if you choose an 18-month commitment.
Can I Wear the Whoop Strap All Day?
Yes, you can. Since this fitness tracker is designed for 24/7 use, you should keep your Whoop on as much as possible.
What Happens if My Whoop Strap Breaks?
Whoop will give you a replacement at no extra cost if your Strap is defective within the warranty period but subject to some conditions. This Limited Warranty cannot be transferred, and also the monthly and annual subscriptions.
Related: Garmin vs Whoop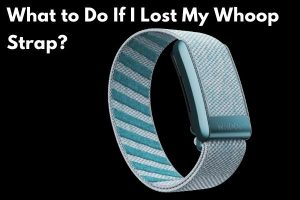 Final Thoughts
Don't miss to keep tabs on your health and fitness because of a lost Whoop Strap. Use the above tips and get back to your health and fitness tracking in no time.