Fitbit Versa 3 and Samsung Galaxy Watch 4 are two health powerhouses. In this post, I'll explore the Fitbit Versa 3 vs Samsung Galaxy Watch 4 battle and show you which one emerges as the victor in this epic face-off.
Although the Samsung Galaxy Watch 4 has impressive fitness and health features, it focuses more on smarts than anything else. But what sets them apart?
Read on for a detailed comparison between the Fitbit Versa 3 and Samsung Galaxy Watch 4.
Related: Fitbit Watch for Women
Fitbit Versa 3 vs Samsung Galaxy Watch 4
| Feature | Fitbit Versa 3 | Samsung Galaxy Watch 4 |
| --- | --- | --- |
| Design | Sleek and lightweight design with a square display | Robust design with a round display |
| Fitness Tracking | Active Zone Minutes, Readiness score, All-day activity tracking and Cardio Fitness Score. | Advanced workout tracking, advanced running coaching technology, |
| Battery Life | 6+ days of battery life | Up to 40 hrs of battery life |
| Smartphone Notifications | For calls, texts, Gmail, calendar events and Facebook | For calls, texts, Google maps, Gmail |
| Music Control | Store and control music from the wrist | Store and control music from the wrist, as well as control Spotify and other streaming services |
| Water Resistance | Water-resistant up to 50 meters | Water-resistant up to 50 meters |
| Fall Detection | No | Yes |
| Additional Features | Voice assistant, quick replies, and mobile payments (Fitbit Pay) | Bixby voice assistant, mobile payments, and ECG monitoring |
Table of Contents
Appearance, Design, and Comfort
The Fitbit Versa 3 gives you all the essentials you would want from a fitness tracker, from female health tracking to Fitbit Pay. It has a refined design with a larger display area, increased responsiveness, more comfort, and softer lines. It has a 40mm aluminum case that's available in Black and Soft Gold. Additionally, it comes with a 1.58-inch AMOLED display that makes it colorful and easy to read outdoors and indoors.
Another crucial improvement is the introduction of the refined Fitbit Versa 3 bands that offer better comfort and flexibility. It has a quick-release system that makes it easy to switch bands whenever you feel like it.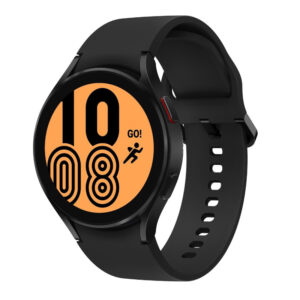 On the other hand, the Galaxy Watch 4 comes with a more traditional design, especially stainless steel chassis and the Classic model's physical rotating bezel. The Watch 4's resolution starts at 396×396 pixels for the smallest watch size but goes up to 450×450 pixels for the larger devices. The Galaxy Watch's display looks sharper when you compare the two watches side by side.
Both devices offer customization by means of watch straps and color options. Additionally, you can change the included bands to include ones that suit your style.
Related: Fitbit Watch for Men
Activity and Workout Tracking
Both Fitbit Versa 3 and Galaxy Watch 4 can handle most fitness-tracking needs. The Versa 3 comes with basic fitness features as well as advanced specs. It can track 20 different activities, including outdoor and indoor swimming, and has automatic workout detection. 
The Watch 4 comes with comprehensive fitness tracking, thanks to the tons of sensors that help you keep track of your fitness levels. It has 13 trackable workouts installed by default, but Samsung Health comes with more than 80 if your favorites aren't included. You'll also like the automatic workout tracking that activates the workout mode when you start an activity.
Fitbit Versa 3 vs Samsung Watch 4: Calorie Tracking
Both fitness devices have excellent calorie-tracking capabilities. The Versa 3 tracks the calories you've burned through activities and also your BMR calories. These are the calories you burn even when asleep.
The Galaxy Watch 4 also tracks the burned calories based on your heart rate, weight, distance, and speed.  The Fitbit Versa 3 is more accurate in calorie tracking compared to Watch 4.
Samsung Watch vs Fitbit: Sleep Tracking
The Samsung Galaxy Watch 4 provides advanced sleep tracking and gives you valuable insight into your sleep patterns to help you improve sleep quality. You'll have access to advanced Sleep Scores, and the watch can detect the sound of your snores.
The Versa 3 also shines in sleep tracking and gives detailed looks at your sleep. It takes into account your sleep duration and the different stages of sleep. Fitbit also provides advanced sleep analytics for premium users.
Heart rate monitoring
The Versa 3 provides heart rate zone notifications during workouts. It uses your heart rate to determine your effort level. It also uses the heart rate monitor to capture pulse measurements throughout your recorded workouts.
The Galaxy Watch 4 also comes with a new algorithm that gives accurate heart rate measurements. This smartwatch can record blood oxygen levels, blood pressure, and ECG to provide you with accurate readings.
Water-resistance / Waterproof
Fitbit Versa 3 is water-resistant to 50 meters which means it won't suffer when exposed to shallow water and a sweaty workout. The Galaxy Watch 4 is also water-resistant and comes with IP68 water resistance. However, you should avoid deep-sea diving when dealing with these devices.
Integrations / Compatibilities
Both devices are compatible with a range of Android and iOS devices. They also have NFC that allows them to make simple wireless transactions. Additionally, they sync your data automatically and support Wi-Fi connectivity.
Fitbit Versa 3 vs Galaxy Watch 4: Battery
The Versa 3 comes with up to 6 days of battery life, with limited GPS use and normal display brightness. On the other hand, Samsung claims up to 40 hours of battery life, but factors like an always-on display will drain the battery faster.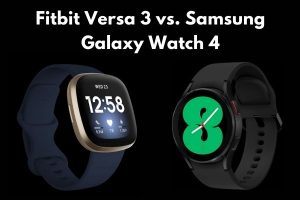 Samsung Galaxy Watch 4 vs Fitbit Versa 3: Cost/Pricing
The Fitbit Versa 3 costs $229.95. The 40mm Galaxy Watch 4 LTE model costs $279.99, while the 44mm model goes for $329.99 with LTE and $279.99 without LTE.
Galaxy Watch 4 vs Fitbit Versa 3 FAQ
Is there anything better than Fitbit?
Who is Fitbit's biggest competitor?
Some of Fitbit's top competitors include Garmin, Apple, Misfit Wearable, and Jawbone Health, among others.
Final Thoughts
The Fitbit Versa 3 and Samsung Galaxy Watch 4 are great devices and come at a fair price. But if you're wondering which is best for you, here's our take.
The Galaxy Watch 4 is a better-rounded smartwatch with comprehensive communication features, while the Versa 3 is a great health gadget to help you meet your health and fitness goals.
I hope my Samsung Watch 4 vs Fitbit Versa 3 comparison post has helped you settle for the activity tracker that fits your lifestyle…