One of the latest trends in the fitness-tracking world is the sudden increase in ankle fitness trackers. Many fitness enthusiasts have taken to wearing fitness trackers on their ankles rather than wearing a tracker on the arm and wrist.
Although wearing a fitness tracker on your ankle may give accurate heart rate and step count monitoring, depending on the model, it can give inconsistent data for other measurements being monitored.
Fortunately, there are trackers designed specifically to wear on your ankle and provide accurate data in real-time. Here are some of the best ankle fitness trackers you'll find out there.
What is a Fitness Tracker?
If you're wondering what exactly a fitness tracker is, it's a gadget that resembles a bracelet or a watch. It records your steps, heart rate, and general levels of activity, and the information is used to track and calculate other things like calories burned while exercising.
Benefits of a Fitness Tracker
A fitness tracker is not only designed to track your heart rate and monitor your vitals, but it serves as an accurate tracker for your physical well-being and sleep. There are several cases where fitness trackers have saved lives and even helped solve a murder. Generally, fitness trackers are extremely useful, especially if you go for one that comes with the latest tech and advanced features.
Reasons Why You Should Wear Your Fitness Tracker on Your Ankle
Distractions
Nowadays, most people have a short attention span. Distractions are plentiful and easy, especially when using a fitness tracker or a smartwatch. By wearing an ankle fitness tracker, you can avoid constantly checking your distances, heart rate, and any other distractions that may arise during workouts. An ankle tracker helps you to focus on your training and activities.
Accuracy of Tracking
Accuracy is very crucial in fitness trackers. There are some reasons why wearing a tracker on your wrist can give inaccurate readings. Most fitness enthusiasts consider the ankle as the best place to wear a fitness tracker because when you move your foot, your device does too.
Downsides for Ankle Fitness Trackers
Although these ankle fitness trackers sound amazing and mesmerizing, they all come with some drawbacks:
First, sleep tracking will not be accurate because you move your legs a lot while sleeping.
You won't be able to view your screen easily because it's placed on your ankle and not on your wrist.
Also, you might miss out on some crucial matrices like calories burned and heart rate in some ankle fitness trackers.
FAQs
Can You Wear Fitness Tracker on Ankle?
Yes, you can. The ankle fitness trackers are ideal for those who prioritize comfort and cannot wear trackers on the wrist. If you also want to count your steps with utmost accuracy, an ankle fitness tracker is a great option. For instance, athletes, nurses, hikers, and cyclists should go for ankle fitness trackers. Additionally, ankle fitness trackers are less distracting compared to wrist-based trackers.
Can I Put My Garmin on My Ankle?
If you're a Garmin lover and want a great fitness tracker on your ankle, there are several options available.
Can I Wear an Apple Watch on My Ankle?
Apple fitness trackers are not designed to be worn on the ankle. The most efficient way to wear an Apple watch is on the wrist. This will guarantee you accurate and consistent results.
Can I Wear a Pedometer on the Ankle?
Yes. A pedometer can be worn on the arm or ankle. Additionally, the ankle's accelerometer will monitor the distance covered and count the steps.
Best Ankle Fitness Tracker Buying Guide
Choosing a fitness tracker that fits perfectly on your ankle is very important. You don't want to waste your hard-earned cash on the wrong fitness tracker that will be useless straight out of the box. So here are some key factors to consider when choosing the best ankle fitness tracker.
Size
Ankle fitness trackers are available in a huge range of sizes. Everyone's need is different. So ensure that you go for one that fits you well. You should also check some reviews to see what other users are saying about the size.
Material
This is one of the most important factors you should be keen on when choosing an ankle fitness tracker. Material quality varies from brand to brand. You should go for one that can withstand continuous use and abuse.
Color
This is a matter of personal preference. Fortunately, there are several colors to choose from. Ensure that you choose a fitness tracker that matches your style.
Durability
Durability is dependent on material quality. The fitness tracker you choose should have a sturdy build and one that can last for years without compromising performance.
Price
It is important to set a budget before buying an ankle fitness tracker. The price of your favorite fitness tracker is determined by its features. You should pick one that comes with advanced features and falls within your budget.
Battery Life
Battery life varies from watch to watch. Some trackers can last for a week, while others can barely last for a day or two before recharging them. If you have no issue charging it every night, then you are good to go. But if you're looking for a fitness tracker that offers 24/7 monitoring, go for one that can last for a few days.
Accuracy
Not all fitness trackers are designed with the same tracking accuracy. For this reason, some may be inconsistent and may lead to inaccurate results. Make sure that your favorite tracker can track accurately.
Comfort and Ease of Use
Top-notch ankle fitness trackers should be easy to use and long-lasting. Therefore, choose a fitness tracker made of lightweight, breathable, and comfortable material. With this, you won't have issues with style and comfort.
Water Resistance
Most fitness trackers today are water-resistant, so you can wear them even on a rainy day. However, the degree of water resistance varies from one model to another. If you want to use your tracker in the shower or on a rainy day, look for one with more than 50m of water resistance.
Best Ankle Fitness Tracker Reviews
3D Fitness Tracker & Real-Time Audio Coach, Moov Now
This ankle fitness tracker has all the basic bells and whistles you can expect in most fitness trackers. It is specially built to fit your ankle. The Moov Now tracker allows you to connect to your smartphone, headphone, and computer. With this tracker, you're guaranteed a fun-filled moment by using the voice coach and setting goals for your workouts. If you're a gym lover, avid sportsman, or love running on rainy days, this is a good bet because it is waterproof. Additionally, it doesn't have smartphone alerts, so you'll not be disrupted by pesky notifications when working out.
Features
3 color options
Voice coach
Pros
Water-resistant
Easy to use and comfortable
Long-lasting battery life
Real-time accuracy
Cons
It doesn't track leisurely steps
Fitbit Flex 2, Black (US Version), 1 Count
If you're looking for an ankle fitness tracker that comes with a simple design, this is a great option. The Fitbit Flex 2 lacks a display and is basically a strap equipped with LEDs. The best thing about this tracker is that you don't need an ankle band since it can work there easily. But if it doesn't fit, you can use ankle bands. This tracker is ultra-thin and is effortless to take it off. This device can track the distance covered, calories burned, steps taken, and active minutes.
Features
Black color
Multi-sport modes
Color-coded LED lights
Pros
Easy to use
Slim design
Good fitness tracking features
Swimproof
Cons
Misfit Wearables S500BM0RZ Misfit Ray – Fitness + Sleep Tracker
When you're looking for a reliable and efficient fitness tracker for your workout performance, the Misfit Wearables S500BM0RZ Misfit Ray should be at the top of your list. This ankle fitness tracker comes with simple functionality and a stylish design. The good thing about this tracker is that you can change the style by opting for nylon, leather, and nylon tassel. If you're operating on a budget, this is not an issue because it comes with a low price but provides impressive results.
Features
3 color options
Rubber material
Multicolor LED progress display
Pros
Long-lasting battery
Water-resistant up to 50 meters
Accurate fitness and sleep tracking
Affordable
Garmin Vivosmart 4, Activity and Fitness Tracker
The Garmin Vivosmart 4 comes in a compact size and shape and won't be a burden to your ankle in any way, thanks to its lightweight design. This fitness tracker has several features related to fitness and health tracking. It has an effective heart-rate monitor, OX sensor, and sleep monitor and is water-resistant to some extent. Additionally, it includes multi-sport modes such as yoga, walking, strength training, running, swimming, and more.
Features
Stylish metal accents
Polycarbonate lens material
Silicone strap material
48×128 pixels display resolution
Pros
Stress tracking
Amazing fitness tracking features
Swimproof
Cons
B-Great Ankle Band for Men and Women
Are you looking for a comfortable ankle fitness tracker that comes with a hand-made material? Look no further! The B-Great Ankle Band is available in multiple sizes and is equipped with skin-friendly material. This fitness tracker for women and men can be attached tightly to your ankle without compromising comfort. Additionally, this tracker is soft and lightweight, so you can wear the tracker for a long time without feeling any discomfort.
Features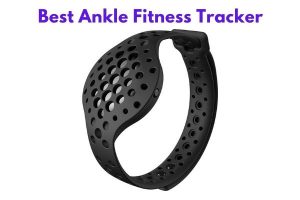 4 color options
Mesh pouch
Pros
Soft and comfortable fit
Highly lightweight
Accurate results
Valued for the price
Cons
Final Thoughts
All the fitness trackers reviewed above are some of the best ankle fitness trackers available in the game right now. Don't fall for a low-quality ankle fitness tracker by choosing blindly. Pick one from above and take your fitness tracking to the next level.