In most cases, smartwatches have a built-in mechanism to help you track activities like runs. However, you can also use a third-party tracking app for additional and more accurate data. Runkeeper is one of the most popular fitness apps you can use to track your activities.
This fitness app is available for both iOS and Android users, but you can easily install it on your Smartwatch. In this article, I'll review the 5 best Runkeeper-compatible smartwatches along with some crucial tips to help you make a wise decision.
What is a Runkeeper?
Runkeeper is among the most popular running apps and has been a favorite choice for most fitness enthusiasts because of its simple and easy-to-use interface. This running app is free and is compatible with both Android and iOS gadgets. It makes great use of the sensors and GPS of your Smartwatch and smartphone, which means it delivers accurate data and shows your activities in real time.
With this running app, you can track your runs, set goals, and monitor your improvement over time. You can also connect with family and friends, share goals and activities, and join the community challenges.
How to Get Started With Runkeeper
After downloading the Runkeeper app, you'll need to sign-up. You can sign-up via Facebook or email address, and click on the one you prefer. You will be required to fill in your email address, name, place of residence, date of birth, and gender. The app will access the sensors on the Smartwatch to be able to track your runs. You can enable the push notifications if you want to be reminded to run.
In the main Runkeeper dashboard, you can add goals and change any settings on the app. This app has a Training option that allows you to pick a training plan to start. The Feed option is where you can view activities from friends you've added on Runkeeper. Finally, there's the Challenges option where you can groups where other Runkeeper users set up challenges.
How to Track a Run With a Runkeeper
To start tracking using the Runkeeper, you need to press the 'Start' option in the bottom menu. If you selected the running program when signing up, you'll see a screen showing what it is and an option to begin the program. If you want that, tap 'Start run.' If you didn't sign-up for a running program or don't want to stick to one, tap 'Free run.' The run will only begin if you hit the yellow Start button.
At this point, you'll view your run in real-time, like miles, time, average pace, and pace. You'll also view your location if your Smartwatch has a built-in GPS. You can swipe to the left to adjust the run settings, including calories, night mode, satellite map, and audio stats. To end your run, press the 'pause button and then the 'stop' button.
How to Sync Your Smartwatch With Runkeeper
Go to the 'Me' section of Runkeeper and click the cog icon.
Scroll down to 'Apps, devices, and devices.'
Click on 'Manage devices and tap 'Devices & hardware.'
Select the device you want to add and let Runkeeper sync with your device via Bluetooth.
Finally, confirm the syncing with the Smartwatch app, and you're ready to hit the road.
Best Runkeeper Compatible Smartwatch Reviews
Apple Watch Series 6
The Apple Watch Series 6 is among the few smartwatches that are compatible with the Runkeeper app. You can easily download the app on your watch to track your sessions. Download the app from the App Store, connect the account, and you're back on track in no time. This Smartwatch has great specs and performance and is equipped with the latest chip and features like ECG, Blood Oxygen Sensor, heart rate sensor, SOS, and fall detection. If you're an Apple user and like Runkeeper, this Smartwatch is a great option.
Features
40 mm size
Always-n Retina display
Built-in GPS
U1 Ultra Wideband chip
Pros
Swimproof design
Advanced fitness features
Easy to replace bands
Bright display
Cons
Not compatible with Android devices
Fitbit Sense Advanced Smartwatch
If you're looking for an advanced smartwatch that's compatible with Runkeeper, this is a great choice. The Fitbit Sense Advanced Smartwatch is equipped with advanced features like ECG ad skin temperature monitoring, which aren't available in most smartwatches out there. It also comes with a SpO2 sensor that tracks the oxygen saturation in your blood. With Fitbit Sense, you will always be on top of your fitness game, thanks to many advanced features.
Features
3 color options
Built-in skin temperature sensor
Built-in GPS
Built-in mic and speaker
Pros
Bluetooth connectivity
Long-lasting battery
Advanced features
Cons
Terrible customer service
Garmin Forerunner 245 Music
The Garmin Forerunner 245 Music is an affordable yet high-performing smartwatch with solid build quality and a sporty design. It is designed to handle continuous use and abuse and harsh outdoor conditions. This Smartwatch is feature-filled and comes with a sleep tracker, heart-rate sensor, stress tracking, blood oxygen saturation monitoring, and other top-notch features. However, this Smartwatch doesn't have a dedicated Runkeeper app and relies on Runkeeper Online.
Features
1.2-inch screen size
LCD type
Built-in GPS
Pros
Long-lasting battery
Tons of advanced features
Bright display
Apple Watch SE
If you're looking for a pocket-friendly smartwatch that comes packed with impressive features, this is a great bet. The Apple Watch SE has a high-quality Retina LTPO OLED display that gives you 1000 nits of brightness. It has top-notch features like Emergency SOS, heart rate monitoring, fall detection, irregular heart rhythm notification, and water resistance. It comes with a dedicated app for Runkeeper that you can easily install to track your activities. So, if you want an affordable yet feature-filled Runkeeper Compatible smartwatch, this will suit you.
Features
40mm size
Built-in GPS
Always-On Retina display
Interchangeable bands
Pros
Large display
Fast processor
Effective activity tracker
Affordable
Samsung Galaxy Gear Smartwatch
The Samsung Galaxy Gear Smartwatch comes with quality features at a less expensive price tag, making it a great option for most fitness enthusiasts. This Smartwatch keeps you updated with calls, emails, and texts. It comes with a brilliant 1.63-inch AMOLED screen that gives enough room to view your fitness data. Additionally, it's built with a comfortable strap and a full-metal body that can withstand harsh outdoor conditions.
Features
1.63-inch AMOLED screen
Full-metal body design
4 color options
Pros
Beautiful display
Less expensive
Heart rate monitor
Compatible with standard watchbands
FAQs
Does Runkeeper Work With Galaxy Watch?
Galaxy Watch Series has some of the most accurate and reliable smartwatches. However, Runkeeper does not have an app for Galaxy Watch Users.
Does Runkeeper Sync With Samsung Health?
A while ago, Samsung Health could sync data with third-party apps, but Samsung terminated the service in 2018. Therefore, it's not possible to sync data from health to Runkeeper.
Does Runkeeper Work on Huawei Smartwatches?
Unfortunately, no. Runkeeper doesn't have online support or a dedicated app for Huawei watches.
Runkeeper Compatible Smartwatch Buying Guide
When looking for the best Runkeeper-compatible Smartwatch, it scales down to the various features and options in a device. If you're new to smartwatches, it may be tough deciding on the best device, considering that there are tons of options in the market. However, I've listed some key factors that will help you make an informed decision.
Design and Style
What kind of Smartwatch do you want? Do you like the one that has a traditional or a tiny phone? Both kinds are readily available. So choose one that suits your style.
GPS Navigation
GPS navigation allows you to keep track of your every move everything, from tracking your runs to hiking and biking. It helps you locate your route and update you on your current location, especially if you are following an unknown location. You can also have a visual look at the greens through this technology.
Battery Life
You don't want the experience of a smartwatch that drains power after a few hours of use. A quality Runkeeper-compatible Smartwatch should last you for the entire running time. It's also good if you can find a battery that lasts for several days without charging it. Most smartwatches come with a battery life of between 10-18 hours.
Ease of Use
Smartwatches range from simple to sophisticated devices depending on the features installed. Some models can be confusing for an average user and seniors. However, the Smartwatch you choose is a matter of personal preference. You can choose to buy an advanced smartwatch or a basic watch.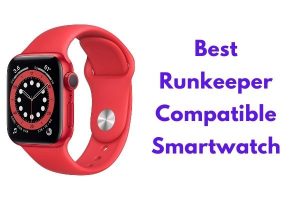 Advanced Tracking
For some, a fitness tracker that has basic features is sufficient. However, it's important to look for one with advanced tracking features like heart monitoring. Although additional features may translate to a higher price tag, you might need them for accurate and impressive results.
Notifications
If you want a gadget that will help you spend less time on your phone, then look for one that can deliver messages and notifications directly to your wrist. This comes in handy when charging your phone in another room, but you want to view some important updates.
Final Thoughts
Investing in a Smartwatch compatible with Runkeeper can help you lead a more active and healthier lifestyle. However, always take some time to think about the features you'll want in your Smartwatch to avoid buying a low-quality device.