Losing weight is a great challenge that most people face every day. About 20% of adolescents and 40% of adults are obese in the United States, making it a worrying trend that's developing year after year.
If you're serious about losing weight, you'll need an accurate fitness tracker, and that's what Fitbit is all about!
In this article, I'll review the best Fitbits for weight loss ranging in features, price, and design to suit every need and taste.
How can a Fitbit help you in your weight loss journey?
There are tons of health trackers out there. Some are great for athletic performance and tracking your workouts, while others are designed for changing lifestyle habits and promoting good posture. Fitbit trackers are equipped with tons of features that are quite handy if you're trying to lose weight.
First, the Fitbit dashboard is specially designed to suit your weight-loss efforts. Its simple, clean interface helps you to input and evaluate health data from your smartphone. The customizable tiles are quite helpful in understanding and managing your energy balance. The dashboard also allows you to track your sleep, manage your macronutrient balance, monitor daily activity metrics, and set achievable goals.
Fitbit is also easy to pair with other helpful tools and apps to make weight loss easier. It can pair with apps like MyFitnessPal, Strava, or Leaderboard.
Lastly, you can upgrade to Fitbit Premium. Although it's not compulsory, the Premium service gives you access to weight loss guidance based on your progress, including dynamic workouts and guided programs.
With Fitbit Premium, you can access meditation apps and add one-on-one health coaching at an extra fee.
Crucial Tips for Using Fitbit
If you want to get the best out of your Fitbit, set the dashboard properly and check it often. The tiles on the dashboard promote good health, but some are quite useful when your main goal is weight loss.
Food Plan
You can use this tile to set a weight loss goal. From this, you can choose the weight you want to lose and how hard you're willing to work out to realize the goal. Based on your goal, you'll be assigned a daily calorie deficit. Once you set this feature, you can check the number of calories you've burned in a day.
Hourly Activity Goal
This tile will help you to improve your metabolism. Keep checking it to ensure that you're not idle and burning activity calories throughout the day. All Fitbit models come with reminders to move.
You can also use the Hourly Activity Goal to determine the times of the day you're least active. Use these times to do some tasks that require walking or schedule a walk with a friend.
Calories in vs. Out
This tile shows you the number of calories you've consumed compared to the ones burned in a day. You'll want your tile to indicate that you've consumed enough calories to keep you energized but also burned enough calories to hit your calorie deficit target.
Fitbit for Weight Loss Buying Guide
Choosing a Fitbit that will help you lose excess weight is very important. No one wants a fitness tracker that will be useless straight out of the box. So here are some key factors to consider when choosing the best Fitbit for weight loss.
Work Habits
If your Fitbit restricts you from working effectively, you're likely to take it off, and then you'll lose some crucial data. So ensure you choose a model that will fit perfectly in your arm or one that can be placed on a bra or waistband.
Sleep
Some people find sleep data quite helpful when trying to lose weight. Most Fitbit models are equipped with sleep tracking, but other models offer sleep tracking stages to give you detailed info about the time spent on each stage of sleep. Ensure you choose one that will be comfortable to wear at night.
Exercise Habits
If you sweat a lot when working out, go for a model that can take the heat. And if you're a swimming enthusiast, you should choose a model designed to track water workouts and is water-resistant. Ensure you choose a model that blends well with all your favorite workouts and activities.
Smartphone Connectivity and Compatibility
You should choose a Fitbit model that's compatible with your phone. Some models use the Fitbit app, while others come with a customized app. Make sure that your favorite model is compatible with your phone.
Also, go for models that have a variety of connectivity options. Ensure that your Fitbit has excellent Bluetooth communication between your Smartphone and your tracker.
Battery Life
A good Fitbit for weight loss helps you lose weight, but it's valueless if it has a battery that doesn't last for long on a single charge. Not all Fitbit trackers come with a long-lasting battery, so ensure you check your device's battery before making a purchase.
Accuracy
You don't want the disappointments of an inaccurate smartwatch, especially if your main goal is weight loss. Therefore, before buying your favorite Fitbit, ensure that it comes with accurate sensors. Some Fitbit trackers have low-quality sensors that result in misleading results.
Additional Functions
Fitbit trackers can track several things in your body. The best Fitbit for weight loss should accurately track your blood pressure, sleep quality, and stress levels.  A high-quality Fitbit should also have a GPS tracker to help you track your hikes, jogs, or runs. Essentially, select one that suits your needs and lifestyle.
Comfort
Most Fitbits' bands are made of silicone or rubber for increased comfort. However, for sleeker and classier designs, some have fabric and even leather bands. Ensure that the band you choose fits well and is breathable when working out.
Best Fitbit for Weight Loss Reviews
Fitbit Charge 5 Advanced Fitness & Health Tracker
The Fitbit Charge 5 is one of the most comfortable and appealing trackers for weight loss. This Fitbit tracker monitors your sleep, stress, and sleep and gives detailed data to help you make crucial decisions about your health and weight loss. It has a Health Metrics dashboard that helps track your heart rate viability, SpO2, skin temperature, etc. Additionally, you can easily track the calories burned and optimize workouts using the Active Zone Minutes and 24/7 heart rate tracking.
Features
Built-in GPS
3 color options
On-wrist EDA sensor
Pros
Slim and lightweight design
Long battery life
Bright color screen
Cons
The screen feels too small
Fitbit Charge 4 Fitness and Activity Tracker
The Fitbit Charge 4 Fitness and Activity Tracker is an all-round device that will be quite handy in your weight loss journey. It covers all the basics- distance, tracking steps, hourly activity, calories burned, swim-tracking, floors climbed, and Active Zone Minutes.
This model comes with a built-in GPS that gives you real-time pace and distance information without needing your phone. Although you cannot store or play music from this tracker, you can control music from your wrist. It also comes with smartphone notifications and Fitbit Pay.
Features
On-board GPS
20+ goal-based exercise modes
3 color options
Bluetooth connectivity
Active Zone Minutes
Pros
Easy to sync with devices
Long-lasting battery life
Tracks sleep stages
Water-resistant and swim-proof
Cons
Fitbit Charge HR Wireless Activity Wristband
The Fitbit Charge HR Wireless Activity Wristband is an amazing companion if you want to start your weight loss journey. This fitness tracker can track your heart rate and work as an altimeter and pedometer accurately. With a built-in pedometer, you can check the intensity of the activities you're doing.
You can use this device as a motivator by setting a daily step goal and using it to adjust your fitness goals. If you want to stay motivated at all times, ensure you set a daily exercise target or set a competition with a colleague.
Features
6 color options
OLED display
PurePulse Heart Rate
Caller ID
Pros
Automatic sleep tracking
Seamless syncing
Accurate step-tracking and heart rate monitoring
Comfortable
Cons
Horrible customer service
Fitbit Inspire 2 Health & Fitness Tracker
If you're looking for a simple yet accurate fitness tracker, this is a great choice. The Fitbit Inspire 2 Health & Fitness Tracker is a simple and lightweight device with all the features you need to start your weight loss journey. This model is swim-proof and has reminders to help you stay hydrated and active. It offers menstrual health tracking (perfect Fitbit for women), daily encouragement, food and hydration intake, and visibility of your weight.
Features
3 color options
Lithium-ion battery
Active Zone Minutes
Backlit OLED display
Pros
Personalized fitness insights
Easy to use
Effective sleep monitor
Accurate HR
Cons
Not the most comfortable Fitbit model
Fitbit Charge 2 Heart Rate + Fitness Wristband
Nothing beats Charge 2 when it comes to tracking your weight. This Fitbit tracker comes with all the features you need to track your health, including calorie count, heart rate, guided breathing, a large screen, and interchangeable bands. It is also equipped with a SmartTrack feature that automatically recognizes when you're cycling, running, or participating in other sports. Additionally, you'll enjoy features like auto-sleep, active minutes, hourly activity, and floors climbed.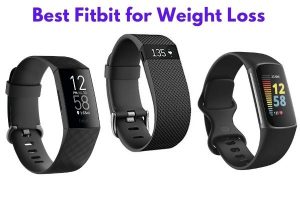 Features
6 color options
Lithium-ion battery
OLED display
Pros
Easy to use
Automatic heart rate monitoring
Stylish accessory bands
Final Thoughts
A Fitbit tracker is a great way to lead a healthy and active lifestyle. The Fitbit models reviewed above will help you lose weight in no time. However, you also need to adjust your lifestyle in order to get the best results. Pick one from the list above and keep track of your weight loss journey.